Harry Potter Takes A Dark And Villainous Path In New Video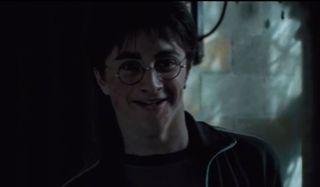 The internet can be a wondrous place sometimes. Thanks to the rise of YouTube, editors across the world can alter their favorite films into completely different beasts, before then unleashing their creations for fans to devour. This has just been the case with Harry Potter, because a video has now been released reimagining the spectacled wizard as a villain. And it's downright creepy.
Kudos, to BloodBlitz Comedy for their rather ingenious creation, which has clearly struck a chord with Harry Potter fanatics, as it has been watched just under 100,000 times in three days.
The entire plot of Harry Potter: The Boy Who Kills tries to flip J.K. Rowling's story on its head, by turning the wizard into an evil child murderer who clearly gets his kicks out of killing people and then smiling away after he's done it. Forget Voldermort and the Malfoys - Harry Potter's villainous stretch in the cleverly reshuffled clip above is umpteen times scarier than each of them.
Here's the thing though: it really didn't take too much to turn Harry Potter into the homicidal maniac that he is in Harry Potter: The Boy Who Kills. All the raw ingredients were there. I mean, clearly Harry Potter's impromptu decision to inflate Uncle Vernon's sister Marge into a bloated balloon carcass that then flies outside of the house was the work of a mad man.
Harry Potter: The Boy Who Kills also shows Daniel Radcliffe's titular hero committing other dastardly deeds of mischief, such as basically killing Draco Malfoy and then simply acting rather ominous, terrible and vicious throughout. Even Michael Gambon's Dumbledore and Robbie Coltrane's Hagrid turn their backs on Potter by the end of it, while the rest of Hogwarts' students, professors, and inhabitants all act rather perturbed and freaked out by his antics.
But Potter's main act of atrociousness in the above clip sees him on the verge of killing the all-around Harry Potter hero Sirius Black, who was so valiantly played by Gary Oldman throughout the franchise. That was just too far.
Those of you who have been left pining for more Harry Potter exploits because of the above don't have to wait too much longer. Work is already underway in bringing Fantastic Beasts And Where To Find Them, J.K. Rowling's 2001 book that added to the Potter universe, to the big screen. In fact, Fantastic Beasts will be released on November 18, 2016.
Your Daily Blend of Entertainment News
Thank you for signing up to CinemaBlend. You will receive a verification email shortly.
There was a problem. Please refresh the page and try again.