Hear Me Out: I Love Kevin James But Hate His Movies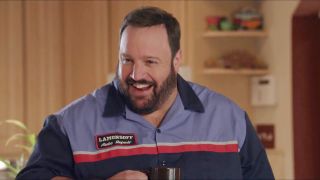 (Image credit: Sony Pictures Releasing)
As much as I am a fan of slapstick and willfully silly comedy, I have to admit: I don't like a single Kevin James movie…at least none of his live-action ones. I adore Monster House where he lends his voice to a skeptical cop, and Hotel Transylvania, where he plays a solidly sweet Frankenstein's monster, is actually surprisingly fun. But when it comes to the rest…seriously, yikes.
Granted, despite their lame premises, there are moments in the romantic comedy Hitch and the bromance The Dilemma that are memorably funny, like when James lets loose his dance moves for better or worse. But really, I have no desire to watch either ever again. I downright loathed his prior Sandler outings, the lazy Grown-Ups and the abysmal I Now Pronounce You Chuck and Larry, where the two pretend to be a gay couple so that hilarity can ensue or something. And frankly, I flat-out avoided the "fat guy with a goofy job" comedies that were Paul Blart: Mall Cop and Zookeeper. And yet, my opinion of James is unsullied. I'm initially always excited when I hear he's in a new movie. But inevitably I either see the cast—often stuffed with bloated comedians who've long passed their hilarious heyday—or a trailer drenched in cartoonish sound effects or talking animals, and my heart sinks, as I think, 'Not again!'
To his credit, James is often the best part of a bad movie, like in Hitch. The uninspired romance between Will Smith's professional playboy and Eva Mendes' gossip columnist was a stale retread of rom-com conventions and wasn't helped by the attractive pair's total lack of chemistry. Then, in the center of this shiny but shallow comedy, there's James playing a husky, awkward pencil pusher whose punching above his weight class in trying to win the heart of a gorgeous and glamorous heiress. He effortlessly stole every scene with his warmth, humor and everyman affability that makes him someone I root for on and off screen.
James is a great physical comedian, in part because of his willingness to be silly or the butt of a joke. But he's also got an incredible charm that's not imposing or overtly sexual. He seems like the kind of guy who'd be fun to have a beer with, the kind of guy who'd have really funny stories to share that don't need to take digs at others to make us laugh. All these "nice guy" traits read onscreen, and make him a welcomed screen presence whatever the movie. But perhaps most impressive, his shtick hasn't grown stale like that of some of his more famous co-stars. James excels at playing a noble but flummoxed everyman because it can fit into so many variations, from his frazzled and cuckolded car genius in The Dilemma to the bumbling blue-collar Doug Heffernan of The King of Queens, and seemingly to the schlubby school teacher who will literally fight for his students' futures in the new release Here Comes the Boom.
I haven't seen this last film yet, but I'm cautiously optimistic is might mark a turning point in James' career. From the trailers it's apparent he's lost some substantial weight, which aids the plot of an average man moving into mixed-martial arts fighting. But it also gives him a new look. With a more defined jawline and leaner physique he's handsomer than before, which may shift his typecasting niche and get him access to better scripts. (I'm assuming that it's not that James has no eye for great material, but rather isn't being offered any.)
I mean, we still have Grown Ups 2 coming whether we like it or not (I do not), but James has something less expected on the way with Alejandro Monteverde's World War II-set dramedy Little Boy, and is soon to shoot the buddy comedy Valet Guys, which will pair him with rising comedy star Kevin Hart. To me it seems like Hollywood is still trying to make sense of what to do with a talent like Kevin James, and I'm hopeful they're on the way to finally figuring it out.
Your Daily Blend of Entertainment News
Staff writer at CinemaBlend.