Heath Ledger Talks About Being Joker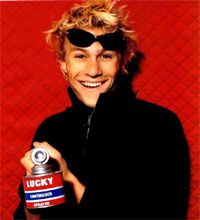 If you're any kind of Batman fan, you're probably wondering what the hell Christopher Nolan was thinking in casting Heath Ledger as The Joker for his next Dark Knight movie. How will he pull it off? Heath has a few ideas.
While at roundtable interviews for his new movie Candy, Ledger spoke to Newsarama about how he plans to play Joker, and he has a plan. "I definitely have an image in my head. I definitely have something up my sleeve. I want to be very sinister. It's so early that I'm trying to be open at this point. I don't want to be glued down to anyone," he says.
But there's more to Joker than simply being sinister. I mean, anyone can do sinister. Heck, they've got Gary Oldman in the movie. If you want sinister get him in some Joker makeup and watch him go. Perhaps Heath doesn't know that though, since he says he's never read any Batman comics and was never a fan of the films. He's reading them now and says it's convinced him not to be Jack Nicholson. "I'm not going for the same thing he went for. That would be stupid. It is also two very different directors with different styles. Tim Burton did a more fantastical kind of thing and Chris Nolan is doing nitty gritty handheld realism."
Heath doesn't even really like superhero movies though. He's not into the tights thing and says the only reason he's in the next Batman sequel is "I feel like this is an opportunity to be in one and not do that. I just gravitated towards the villain role because I felt I had something to give to it. I instantly had an idea."
To read the full interview, including Heath's adventures in the Bat truck (which he compares to the truck on 'Knight Rider', something I guess he is a fan of), click here.
Your Daily Blend of Entertainment News