Hedwig And The Angry Inch Sequel Coming, But Onstage For Now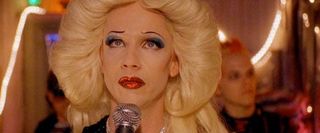 There are some movie characters we can't get enough of, and even if their story had the perfect conclusion, we—their greedy admirers—want more. For me, Hedwig Robinson of Hedwig and the Angry Inch definitely falls into this category. Yes, at the end of the groundbreaking 2001 indie, Hedwig had a brilliant and beautiful climactic moment, but her brassy and sassy attitude is one I long to revisit with a new adventure. And so, it's thrilling to hear her creator John Cameron Mitchell is developing a stage sequel to his hit off-Broadway show.
Mitchell was best known as a Broadway star when he made his mark in film with a fiery movie adaptation of his Hedwig and the Angry Inch stage show. He didn't just write and make his directorial debut, but also starred as its titular transgender rock star. Hedwig Robinson nee Hansel Schmidt was once a German boy living with his cold mother on the East side of the Berlin Wall. But after meeting a brawny American soldier, he left his homeland and most of his manhood behind to become an army bride and move to America. But rather than an offbeat happy ending, this was just the beginning of Hedwig's wiggy tale of self-discovery, which includes a concert tour of divey seafood restaurants, a love affair with a gloomy rock god, and plenty of kick-ass musical numbers.
With its incredible live-recorded performances and fearlessly weird appeal, Hedwig and the Angry Inch won plenty of acclaim and extended the cult following of the property even farther than the oft-revived stage show had. But afterwards Mitchell moved on to other areas of film daring, including the sexually explicit omnibus comedy Shortbus and the Oscar-nominated and gut-wrenching Nicole Kidman drama Rabbit Hole. But now, journalist and theater critic Kevin Sessums has uncovered that Mitchell is bringing Hedwig back to the stage with a suitably wild stage play sequel that Sessums described on his Tumblr as "a phantasmagoria with dollops of brutal reality interwoven into its multi-media narrative."
While Sessums was reluctant to unveil more specifically what Mitchell has in mind for Hedwig's next adventure, he did reveal Mitchell plans to don his sausage curl wig to play the bombastic badass once more, and that Stephen Trask—who wrote the songs for the first show—is back to do the same for the second. The first performance of this untitled production will be a reading September 16th at the Afterglow Festival in Provincetown. Of course, it's too soon to say if this could translate to a film sequel as well, but we'll be keeping our fingers crossed.
Your Daily Blend of Entertainment News
Staff writer at CinemaBlend.