Helen Mirren Seduces With Sauce In The Hundred-Foot Journey Trailer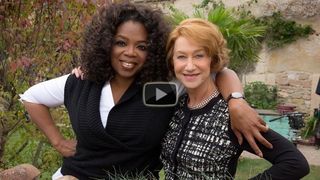 Helen Mirren teams up with Oprah Winfrey for the winsome drama The Hundred-Foot Journey. Mirren stars as a snooty chef who runs an accomplished French restaurant, and is perturbed when an immigrant Indian family opens their own eatery just across the street. Winfrey produces, alongside Steven Spielberg, and the trailer above should give you a sense of what attracted both to the project.
Based on the best-selling novel by Richard C. Morais, The Hundred-Foot Journey begins with the culture clash of this uptight French chef and her raucous new neighbors. She favors traditional French cuisine, and boasts a Michelin star. They prefer the bold spices of their homeland, and are bringing tastes this small French village has never before tasted. Their differences spark a culinary war, battling for diners and the love of the locals. But they begin to become friends when Madame Mallory (Mirren) sees the potential of Hassan Haji (Manish Dayal), the star chef of his family's restaurant. Soon, he begins to learn to cook new dishes from Madame Mallory, but his tastes aren't the only ones that are changing.
Yahoo has shared the film's first trailer, which makes The Hundred-Foot Journey look positively delectable. They also spoke with Oprah Winfrey, who said of her passion to make this movie:
Below is an image of Winfrey in producer mode with Mirren on the set of The Hundred-Foot Journey:
The novel ranked as one of O Magazine's Favorite Summer Reads back in 2010. By the summer of 2013, Winfrey had reconnected with her The Color Purple director Steven Spielberg to get the ball rolling on an adaptation of The Hundred-Foot Journey. With Mirren being eyed for the female lead, Spielberg pursued a director he thought would be perfect for the project. He ultimately snared Swedish helmer Lasse Hallström, who earned an Academy Award nomination for directing the adaptation of John Irving's novel The Cider House Rules. The Hundred-Foot Journey will mark Hallström's follow-up to his last hit adaptation, Safe Haven, based on the Nicholas Sparks romance novel.
The Hundred-Foot Journey will open August 8th.
Staff writer at CinemaBlend.
Your Daily Blend of Entertainment News
Thank you for signing up to CinemaBlend. You will receive a verification email shortly.
There was a problem. Please refresh the page and try again.