Hellraiser Remake Gaining Ground With Director And Casting Talk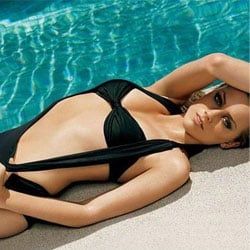 The Hellraiser remake has been an off-and-on project at least since 2006, with various directors coming and going. Originally set for a 2009 release, the film has been having trouble getting off the ground ever since. Luckily for anyone looking forward to a modern Hellraiser, the film has seemingly been gaining a lot of steam as of late. Bloody Disgusting has confirmed not only that Oscar-nominated director Christian E. Christiansen-- also in charge of the forthcoming Screen Gems project The Roommate-- has been signed on to helm the project, but that the film may have also found its leading lady.
According to their sources, the company hopes to sign Amber Heard, who recently had roles in Zombieland and The Stepfather. While she'd probably make an awesome (and attractive) addition to the cast of a film like this, Hellraiser hopefuls shouldn't get too excited just yet. BD also reports that the Weinsteins are looking to market the film for "teens," which in Internet-lingo, means it's going to suck. Still, it's not really fair to start laying on the judgment this early on, but by the sound of it, this is might not be the Hellraiser fans have been hoping for.
Your Daily Blend of Entertainment News