Here Comes A Third Lance Armstrong Movie, This One From Stephen Frears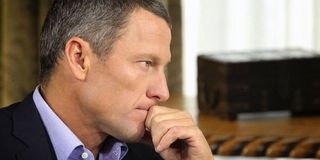 Following his reputation-obliterating doping scandal, seven-time Tour De France winner Lance Armstrong would probably appreciate vanishing from the headlines for a while. But that's unlikely to happen with a batch of biopics about the sullied sports star in development. Deadline reports two-time Academy Award nominee Stephen Frears is the latest to enter the fray on Armstrong-inspired dramas, meaning there are three we know about in the works.
Working Title will produce the picture, which boasts a screenplay by John Hodge, best-known for his collaborations with Danny Boyle, including Trainspotting, A Life Less Ordinary, and Trance. The untitled film will include Armstrong's famous battle with cancer, and his later downfall via the world's biggest doping scandal in professional sports. Reportedly Ben Foster, who most recently hit theaters in the Mark Wahlberg action movie Contraband, is in final negotiations to shoulder the role of Armstrong. And of course Frears will direct.
Memorably, Frears has helmed two biopics before: the widely acclaimed Helen Mirren marvel The Queen, which painted a sympathetic portrait of Queen Elizabeth II during the time of Princess Diana's death; and the bubbly Mrs. Henderson Presents, which told the salacious story of a London widow who built a thriving and groundbreaking burlesque review in World War II England. Both figures, who incurred a lot of negative attention at the time these films focus on, got a humanizing and even compassionate portrayal in Frears' telling of their life stories. This might suggest Armstrong would likewise get a similar shake in this proposed biopic.
This joins a pack of Armstrong biopics that includes one being developed at Warner Bros. Theirs—also presently untitled—is set to be directed by Austin Powers: International Man of Mystery helmer Jay Roach, who has recently moved into docudramas with Game Change and Recount before making the Will Ferrell/Zach Galifianakis comedy The Campaign. Scott Z. Burns (Side Effects, Contagion) has been hired to pen the adapted screenplay. Aside from including the shamed cyclist's story, this project also has the distinction of owning the life rights of Armstrong's US Postal Service racing teammate Tyler Hamilton, who memorably gave a crushing confessional interview on 60 Minutes. You can revisit the more damning moments of that appearance below:
The third project is a biopic from Paramount Pictures and Bad Robot based on the New York Times sportswriter Juliet Macur's book Cycle Of Lies: The Fall Of Lance Armstrong. J.J. Abrams will produce and has claimed he's talking with Bradley Cooper to star. However, when Cooper was asked about the possible project, he said he knew nothing about it. Since then, no news has surfaced.
There's little likelihood all three of these films will come to fruition. Already, a Jake Gyllenhaal vehicle from Sony—that predated this doping scandal—has crashed and burned. But with Frear's film looking to shoot this fall it seems to have the edge on Warner Bros. and Paramount's projects. While it's usually irksome when dual biopics pop up close together (Capote/Infamous, Hitchcock/The Girl), the heart-sickening story of Armstrong's seems even more likely to incite public aversion. Or maybe that's just me.
This poll is no longer available.
Staff writer at CinemaBlend.
Your Daily Blend of Entertainment News
Thank you for signing up to CinemaBlend. You will receive a verification email shortly.
There was a problem. Please refresh the page and try again.