Here's What Happened When Bill Murray Went Off Script For His Ghostbusters Cameo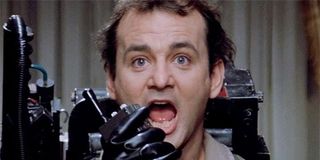 You might have heard this already, but there's a new Ghosbusters movie coming. Rather than asking Dan Aykroyd, Bill Murray, and Ernie Hudson to pull on their proton packs again, co-writer and director Paul Feig has decided to reboot it with a whole new foursome. But he couldn't resist asking the trio of actors back for brief appearances, and now Paul Feig has been discussing how much of a thrill it was when Bill Murray filmed his Ghostbusters cameo.
While speaking to Yahoo Movies, Paul Feig admitted that Bill Murray couldn't help but improvise while working on Ghostbusters. But rather than being annoyed that the comedic icon hadn't stuck to the script, he insisted that it was simply a joy to behold.
Obviously, this is something to get rather excited about. Because Bill Murray riffing comedically is one of the finest sights in cinema. And the thought of him doing so in a Ghostbusters movie is so exciting, it immediately makes Ghostbusters' summer release date seem like decades away. We're still not completely sure who Bill Murray is playing in Ghostbusters. He's definitely not reprising his role as Peter Venkman from the original films, even though Dan Aykroyd, Sigourney Weaver, Ernie Hudson, and Annie Potts are returning, too.
Trying to match, and eclipse, the efforts of Bill Murray, Ernie Hudson, Dan Aykroyd, and Harold Ramis, who sadly perished at the age of 69 back in 2014, will be Kristen Wiig, Melissa McCarthy, Kate McKinnon, and Leslie Jones. Anyone who has read anything about the impending comedy has probably noticed that there was been a growing wave of abuse regarding the reboot. This began with the news that the film will be a reboot not a sequel, continued when it was announced that the new cast would be female, and hit a peak when its trailer was released to a mediocre response earlier this month.
Obviously, it's still remarkably too early to tell if Ghostbusters is going to be live up to its predecessors. We now know that it possesses a returning Bill Murray, which means we have a further reason to be excited rather than pessimistic about Ghostbusters' July 15 release date.
Your Daily Blend of Entertainment News