High-Res Teaser Art For Del Toro's Haunted Mansion Reboot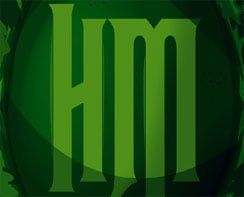 During Disney's panel earlier today Guillermo del Toro gave everyone the impression that he's about to direct a new version of Disney's Haunted Mansion ride. Yeah it's already been done, but it was done horribly, and clearly Disney is hoping to pull a Hulk and take another stab at it. And if Guillermo del Toro really were directing it, then maybe there'd be cause to get excited. One problem: Though everyone left the Disney panel thinking he was directing, Disney's press release says he's not. For now all we know for certain is that he's writing and producing. Time to get less excited folks.
But while you're powering down, at least there's this. Disney just sent us a high-res version of the Haunted Mansion teaser artwork debuted at their Comic Con panel. Del Toro told everyone that the movie would be live action 3D, but this teaser art just screams animation. And seriously, why isn't this an animated movie? Live action has already been tried with Eddie Murphy, and it definitely didn't work.
Click the HM teaser image below for an even higher-res version.
For more info on what's next for Del Toro and Disney, stay tuned to our complete Comic Con coverage here.
Your Daily Blend of Entertainment News
Your Daily Blend of Entertainment News
Thank you for signing up to CinemaBlend. You will receive a verification email shortly.
There was a problem. Please refresh the page and try again.