The Hilarious Reason Diane Lane Objected To Getting Naked For Judge Dredd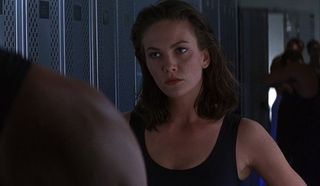 Getting naked and baring it all in a movie can be a harrowing experience for an actor, and performers have a variety of reasons for keeping their clothes on, ranging from being uncomfortable to taking stand. As it turns out, Academy Award nominee Diane Lane has maybe the best excuse you've ever heard for not stripping down in Judge Dredd, you know, aside from not wanting to be seen naked in Judge Dredd.
The 1995 adaptation of the popular 2000 AD comic book is R-rated and full of violence, but not much in the way of nudity. It was an option, but, as Lane told Yahoo, she opted not to go that route out of concerns over how her ass would look compared to that of her co-star. She said:
This sounds like a solid reason to stay clothed to us. On screen nudity must be a nerve-wracking endeavor, to say the least, but who among us wants to go through all of that plus have to stand next to someone like Sylvester Stallone, who, even at 69-years-old (how is he 69?), still looks like he's been chiseled out of a hunk of stone.
Diane Lane is 50-years-old, and if it feels like she's been around for damn near forever, that's because she has. Her career started at just 13, when she appeared opposite Sir Laurence Olivier in George Roy Hill's A Little Romance. She then went on to star in the likes of cult favorite Ladies and Gentlemen, the Fabulous Stains and Francis Ford Coppola's S.E. Hinton adaptations The Outsiders and Rumblefish, all before she was 20.
In a career that includes an Oscar nomination for her role in Adriane Lyne's Unfaithful in 2002, and a role as Clark Kent's mother in the DC Extended Universe, Judge Dredd may not be a high point (though I admittedly have a deep, weird love for that movie). It wasn't particularly well received at the time, nor has it been embraced over the years. What the hell, they can't all be hits, and she's done just fine in the years since.
Lane has had a solid 2015, voicing the mother in Pixar's smash hit Inside Out, and we'll get to see her again shortly when she shows up in Trumbo, which could be a player come awards season. In 2016 she'll reprise her Martha Kent role in the highly anticipated Batman v Superman: Dawn of Justice.
Your Daily Blend of Entertainment News
Your Daily Blend of Entertainment News
Thank you for signing up to CinemaBlend. You will receive a verification email shortly.
There was a problem. Please refresh the page and try again.