Celebrity Voices You May Have Missed In Inside Out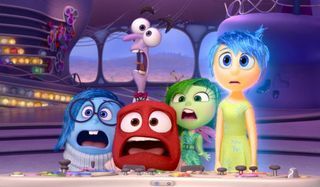 Pixar's latest film, Inside Out, pulls at your heartstrings until the point where you're an exposed ball of emotions, and that's thanks in part to the incredible voice cast. The animation movie giant expertly positioned Amy Poehler as Joy, Phyllis Smith as Sadness, Bill Hader as Fear, Lewis Black as Anger, and Mindy Kaling as Disgust, and together they are the face of Inside Out. However, there's a whole crop of incredible voice cameos that you might have missed if you weren't using your ears. The film is a visual explosion of enthralling imagery, so it's understandable if you weren't able to connect all of the voices with their actors.
During the course of the film, we meet the emotions inside the head of a young girl named Riley and discover what happens when two of them — Joy and Sadness — are unceremoniously thrown out into the wilderness of her mind. As they attempt to get back to headquarters, they encounter a number of interesting and hilarious characters along the way, including imaginary friends, mind maintenance workers, and horrid abominations. (Ahem, Jangles the Clown.) Let's shed some light on some familiar actors who brought some of these supporting players to life.
Flea
Character: Mind Worker Cop Jake
When Joy and Sadness are whisked away to the maze of Longterm Memory and the exciting Imagination Land, they encounter two Mind Worker Cops. One of them is named Jake and he gets his voice from off-the-wall musician Flea, a.k.a. Michael Peter Balzary. You might've missed the bass player, composer, and part-time actor because he barely had any lines, but just know that the same guy who performed naked with the Red Hot Chili Peppers at Woodstock is technically in a Pixar movie.
Richard Kind
Character: Bing Bong
You know Inside Out is a good movie when you care so much for what happens to not only an imaginary friend, but the imaginary friend of another person. Bing Bong is a ball of sunshine and rainbows, and he wouldn't have been so without the voice of Richard Kind backing him. Turns out the Gotham City mayor has a heart of gold.
Character: Cool Girl's Emotions
Oh, Ann, you beautiful tropical fish. Of course your real-life counterpart would be the one to voice all of the emotions living inside the coolest girl in school's head. Everyone, including her best friend in the entire world, Leslie Knope (Amy Poehler's charater on Parks and Recreation), wants to be Rashida Jones, so it makes perfect sense that Riley's Disgust is obsessed with impressing the Cool Girl and her emotions.
Frank Oz
Character: Subconscious Guard Dave
On the road back to headquarters, Joy and Sadness find themselves in Riley's subconscious, which is manned by two guards, Frank and Dave. Funny enough, Frank is voiced by Dave Goelz, while Dave is voiced by the legendary puppeteer Frank Oz, the man behind The Muppet Movie, Sesame Street, and Yoda in Star Wars. Goelz is also a puppeteer, but, come on, it's Yoda.
Paula Poundstone
Character: Forgetter Paula
One of the best scenes in the entire film involves the Forgetters, two hilarious little jellybean-looking mind workers who are in charge of transporting fading memories to Longterm Memory. Like, who needs most of the U.S. presidents we all memorized in fifth grade? The female Forgetter got her voice from stand-up comedian Paula Poundstone. And, off course, she needed an uproarious partner in crime.
Bobby Moynihan
Character: Forgetter Bobby
The SNL funny man voiced Chet in Pixar's Monsters University, followed up by a voice role in the short film follow-up, Party Central, but Forgetter Bobby managed to top those characters with just a few short lines. And they involved getting rid of all those piano tunes Riley learned when she was younger — except, of course, for "Chopsticks" and "Heart and Soul."
John Ratzenberger
Character: Fritz
If you blink, you might miss John Ratzenberger brief cameo. In fact, even a misplaced, forceful breath will make him dissipate. The actor played Fritz, who, if you don't know (and we had to look it up), is the cloud person Joy, Sadness, and Bing Bong meet in Cloud Town. Bing Bong takes a chunk out of his house, which causes a heated street confrontation. There's always a role, no matter how big or small, for Ratzenberger in a Pixar movie.
Character: Riley's Mom
Diane Lane has mothered Superman, so there was no one more qualified to be the mother of Riley. Because almost all of the movie focuses on the young girl and her emotions, though we do get a few glimpses of the emotions living inside other people, we almost glazed over good ole mom and dad. It's no wonder the matriarch of the household had such a comforting and calming voice.
Kyle MacLachlan
Character: Riley's Dad
When Kyle MacLachlan isn't battling S.H.I.E.L.D. agents as Calvin Zabo, and when he isn't filming the upcoming Twin Peaks reboot, he's the universal voice of dad. In Inside Out, his character gets a new job that forces his family to move to San Francisco, which is what causes all these major changes to happen to Riley and throws her emotions into flux. MacLachlan has one of those voices that makes you go, "Wait! Where do I know him from?" And the answer is Dale Cooper. If only he'd mentioned coffee or pie.
Your Daily Blend of Entertainment News