Hitman: Agent 47 Trailer Is Explosive And Out For Blood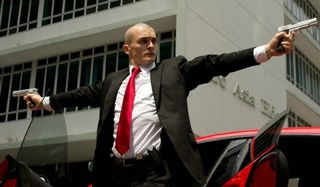 The first Hitman: Agent 47 trailer has landed online with guns blazing. There's CGI-heavy exploding cars, hot chicks and a Terminator-esque assassin. Homeland star Rupert Friend fits the bill as the title villain in this feature film based in the realm of the classic video game. Check it out below!
As the Hitman: Agent 47 trailer details, an elite, assassin is just one of 46 other clones who have all been genetically enhanced with super strength, stamina, intelligence... you name it! However, a mega corporation plans to unlock the secrets of his past in order to create an even more destructive army of killers, so he must team up with a woman who may or may not hold the key to bringing them down.
The first footage tries to make it seem like Agent 47 is out to kill this woman named Katia van Dees (played by Hannah Ware), which gives it a very Terminator-meets-Bourne vibe. We were half expecting Friend to go all Silver Surfer on us and turn his body into that glistening, gooey T-1000 insides. However, Zachary Quinto's John Smith is the one telling Ware she's the one he's after because her father is the creator of the Agent program. That seems to suggest that Quinto will be the villain…once again. But it's ok, because it looks like Agent 47 is going to shoot them into spinning airplane turbines.
The original video game saw Agent 47 as a professional hitman for ICA, the International Contract Agency. He's been hired to kill a number of targets all over the world by a single client. When he goes to execute his final subject, he discovers his origins as a clone. The film version, however, is not an adaptation of this storyline, but rather a sequel to its events.
Though we're excited to see this world come to life on the big screen, the trailer has us less than enthusiastic. Friend looks made to play the part of Agent 47, but the trailer is filled with CGI-fueled stunts and they look cheap. Perhaps it'll all look better on a larger screen. Furthermore, the debut of the trailer is tinged with sadness. Hitman: Agent 47 was originally planned to be a vehicle for Fast and Furious star Paul Walker. After he died in a tragic car crash midway through filming, he was recast and the film was pushed back to accommodate the time needed to induct Friend into the fold. We fell in love with Friend on the hit Showtime Homeland, on which he plays Peter Quinn, but we had our hearts set on seeing Walker tackle this part.
Your Daily Blend of Entertainment News