The Hobbit Cast Announced, Martin Freeman Is Bilbo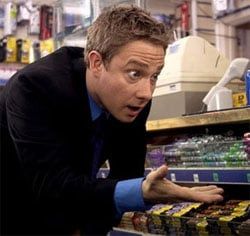 The cast of The Hobbit has been revealed and it's more interesting for who's not listed as being in it, than for who is. First, who is in it. As predicted, Martin Freeman is set to play Bilbo Baggins. He seems perfect, he's the guy everyone's wanted all along, and having him play Bilbo makes so much sense that it almost seems… well… too easy. But ok, that sounds good.
Deadline has the rest of the primary cast too. The book the movie's based on tells the story of a young Bilbo Baggins setting out on a quest with a group of dwarves to free their ancestral mountain home from a dragon. So since Freeman is a Bilbo, that means the rest of the cast will be dwarfy. Leading the Dwarf contingent is Richard Armitage, who will play Thorin Oakenshield. Aidan Turner, best known for his role in Being Human and Rob Kazinsky (East Enders) will play the Dwarf brothers Kili and Fili. Graham McTavish will play the dwarf Dwalin, John Callen is Oin, Stephen Hunter is Bombur, Mark Hadlow is Dori, and Peter Hambleton will play Gloin, the father of Gimli who was played by John Rhys Davies in the Lord of the Rings trilogy.
Notice anyone missing? No sign of either Ian Mckellan or Andy Serkis even though both of their characters, Gandalf and Gollum respectively, are pivotal parts of The Hobbit. They're expected to return, but apparently they don't have deals done yet. Deadline is throwing around a whole host of other names who may be up for smaller roles in the film, people like James Nesbitt and former Doctor Who David Tennant. Stephen Fry, Saoirse Ronan may show up and Bill Nighy is expected to be the voice of the dragon Smaug, but they're not set yet, unlike the primary cast which now seems to be set in stone.
Here's a a more in-depth breakdown of the newly announced Hobbit cast:
Martin Freeman is Bilbo Baggins
Age: 39
Birthplace: Aldershot, Hampshire, England, UK
Notable Roles: Tim on BBC's The Office, Arthur Dent in Hitchhiker's Guide to the Galaxy, Porn star John in Love Actually
Richard Armitage is Thorin Oakenshield
Age: 39
Birthplace: Leicester, England, UK
Notable Roles: Guy of Gisborne on BBC's Robin Hood, Uncredited Naboo fighter pilot in Star Wars Episode I: The Phantom Menace
Aidan Turner is Kili
Age: 27
Birthplace: Ireland
Notable Roles: The vampire Mitchell on BBC's Being Human, Bedoli on The Tudors
Rob Kazinsky is Fili
Age: 27
Birthplace: Cuckfield, Sussex, England, UK
Notable Roles: Sean on the BBC's EastEnders
Graham McTavish is Dwalin
Age: 49
Birthplace: Glasgow, Scotland, UK
Notable Roles: Carl Hutton in Secretariat, Ivan Sokoloff in Middle Men, Ferguson on TV's Prison Break, Lewis in Rambo
Mark Hadlow is Dori
Age: 53
Birthplace: New Zealand
Notable Roles: Stand-up Comic, Harry in King Kong, Milo on Xena: Warrior Princess
Stephen Hunter is Bombur
Age: 42
Birthplace: Wellington, New Zealand
Notable Roles: voice actor, commercials
Peter Hambleton is Gloin
Age: Unknown
Birthplace: Unknown
Notable Roles: TV movies
John Callen is Oin
Age: Unknown
Birthplace: Unknown
Notable Roles: Voice work in television programming and video games
Your Daily Blend of Entertainment News