The Hobbit Will Shoot In New Zealand, Labor Dispute Ended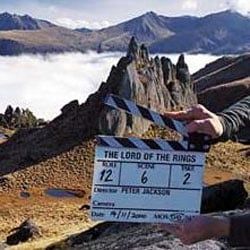 The Hobbit got the greenlight to begin production a couple of weeks ago and they even announced the movie's cast. But even though we've known that the movie is really happening for awhile now, what nobody has been entirely sure of until just a few hours ago, is where the movie would be filmed. Now that's settled. The Hobbit will be filmed in New Zealand.
You might have assumed New Zealand as a filming location would be automatic, after all three Lord of the Rings movies were shot there, and now New Zealand basically is Middle Earth. But over the past few months an incredibly complicated labor dispute has broken out in the tiny island nation, a labor dispute which resulted in the country's actors union blacklisting the movie. When Warner Bros. threatened to move the production they lifted the ban, but it was too late and the company's confidence was shaken. They worried they'd start production only to have the actors go on strike and leave them high and dry.
But the infusion of cash filming two Hobbit movies will bring to the small country was so important that New Zealand prime minister John Key stepped in over the weekend to meet with Warner Bros. and help Peter Jackson convince them that they can count on New Zealand not to flake out again. Today Key announced that they'd achieved the desired result and tells the BBC that Warner Bros. has agreed to go back to their original plan of shooting both of the upcoming Hobbit movies in his country.
In exchange the New Zealand government has agreed to introduce legislation which will help avoid similar labor problems in the future. For a small country which has built its tourism industry on being Middle Earth and much of its economy on being a great place to shoot movies, this was probably the right move. Luckily it's the right move for movie lovers too. Middle Earth can't be Middle Earth without those breathtaking New Zealand landscapes.
Your Daily Blend of Entertainment News