The Hollywood Director Who Really Helped Eddie Redmayne Prepare For The Danish Girl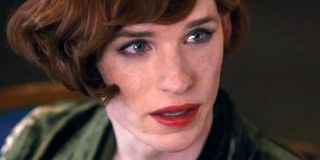 In order to prepare for his role as Lili Elbe in The Danish Girl, Eddie Redmayne was rather rigorous with his research. Not only did he read every book on her that he could get his hands on, but he also visited individuals who had gone through sexual reassignment surgery themselves. But while filming Jupiter Ascending he was able to talk with director Lana Wachowski, who had not only undergone the operation herself but who also knew a great deal about Lili Elbe.
When I sat down with Eddie Redmayne at the end of October to talk about his research and performance in The Danish Girl, he admitted that he talked extensively with Lana Wachowski, who was born and formerly known as Laurence Wachowski until she completed her transition from a man to a woman in 2008, during the production of the sci-fi blockbuster.
And the direction that Lana Wachowski pointed Eddie Redmayne in clearly helped the actor to work wonders, because his performance in The Danish Girl miraculously eclipses his Oscar-winning work in The Theory Of Everything.
Rather than reluctantly being restrained by a debilitating illness and then having to try and communicate and act with tiny moments and glances, Redmayne has to portray a smorgasbord of emotions as Einer Wegender comes to terms with the fact that he wants to transition into a woman. Somehow, he doesn't miss a beat in showcasing each and every one of these feelings, even when he has to emote several of them at once.
You can check out part of my discussion with the wonderfully cordial and engaging Eddie Redmayne below. He really is one charming bugger.
Some cruel individuals might make the comment that Lana Wachowski's advice to Eddie Redmayne regarding his performance in The Danish Girl was the only positive thing to come out of Jupiter Ascending. The film proved to be a rather big flop for Warner Bros. OK, its failure might have been eclipsed by the woeful performances of Pan and Fantastic Four, but the sci-fi space opera only grossed $183.9 million from a $176 million budget. Plus, it was also rather savaged by critics too. Personally I found Jupiter Ascending to be flippant, camp fun, which didn't take itself too seriously and had plenty of enthralling action set-pieces to pass as a worthwhile entertaining ride. But that's just me.
Eddie Redmayne will be hoping that The Danish Girl is received much more favorably by audiences when it is finally released on November 27.
Your Daily Blend of Entertainment News
Your Daily Blend of Entertainment News
Thank you for signing up to CinemaBlend. You will receive a verification email shortly.
There was a problem. Please refresh the page and try again.