Horror Legend John Carpenter To Direct Darkchylde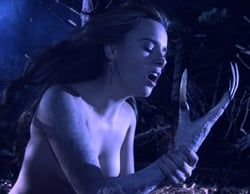 A big screen adaptation of the Image Comics super-hit Darkchylde has been on the books for a while now, but there hasn't been a whole lot of action going on behind what will inevitably be a high profile horror production. The last we heard, WETA had put together an effects test of the main character Ariel Chylde transforming into one of many creatures from her nightmares, but since then all's been quiet.
Big news from the Darkchylde camp this weekend, though, as horror legend John Carpenter has signed on to direct, says STYD. The Halloween helmer has joined forced with creators and producers Randy and Sarah Queen to bring the story to life on the big screen.
The Darkchylde comic series was unusually popular when it launched in 1996, particularly with females who usually veer away from things as hyper-nerdy as comics. Shockingly, long-standing series like Superman, Batman, and even Spider-Man couldn't keep up with the skyrocketing sales of this new anti-heroine. In Darkchylde, Ariel transforms into the creatures she imagines in her nightmares and then must save her town from the plagues she sets upon them. No two transformations are quite alike.
Carpenter is showing quite a lot of enthusiasm for the project comparing the story's lead to his most famous unlikely hero, Laurie Strode.
There's still a long way to go before the movie can get going, but getting a legendary director on board was a big first step. Presumably, it won't be too long before we start hearing rumors of who will be Carpenter's next big star. Scope out the test footage from July below, but be warned, there's some shadowy side-boob so it may be NSFW.
Your Daily Blend of Entertainment News