The Host 2 Finally Coming Summer Of 2014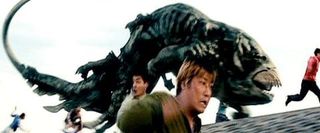 In 2006, horror fans were downright giddy over Bong Joon-ho's imaginative and terrifying South Korean monster movie The Host. Centering on a family thrown into crisis when one of their members, a young schoolgirl, is abducted by a big and bizarre beast that's emerged from Seoul's polluted Han River, the feature was a big hit in its native land, and caught on Stateside thanks in part to the praise it won on the film festival circuit. Since then, Joon-ho has gone on to helm the widely praised crime mystery Mother, and will soon make his English language debut with the much-anticipated dystopian drama Snowpiercer. But the promise of a sequel to The Host has lived on without him.
Last November a clip of a marine monster chasing screaming school kids surfaced that appeared to be from The Host 2. This promising teaser suggested the film's release would follow soon thereafter. However, Twitch has uncovered the clip is from several years ago, and is actually just test footage for its special effects. Moreover, the film is not expected to hit theaters until the summer of 2014.
The wait is certainly disappointing, but it seems production could be underway soon since Im Pil-sung, writer-director of the horror thriller Antarctic Journal and twisted fairy tale Hansel & Gretel, has reportedly completed the script. Still, details on the sequel's plotline are being closely guarded, but it's said to feature two different monsters, presumably one that will resemble that seen in the test footage. Park Myung-chun will make his directorial debut on the film, and its visual effects will be handled by the US company The Orphanage, which has worked on The Host as well as Night at the Museum, Sin City and Pirates of the Caribbean: Dead Man's Chest. So, while we don't know what The Host 2 will be about, we do know it's going to have some seriously stunning special effects.
Staff writer at CinemaBlend.
Your Daily Blend of Entertainment News
Thank you for signing up to CinemaBlend. You will receive a verification email shortly.
There was a problem. Please refresh the page and try again.