How The Aliens In Star Wars: Rogue One Will Be More Realistic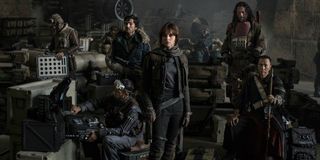 By now most people have fallen back in love with the Star Wars franchise thanks to The Force Awakens. J.J. Abrams rejuvenated the series with the seventh instalment, and fans are chomping at the bit to see how the universe expands. Obviously, a key element to Star Wars' appeal is the array of aliens that populate the world, and one of visual effects artists on Rogue One: A Star Wars Story opened up about their plan to make these aliens as realistic as possible.
Neal Scanlan, who has the job of Creature Supervisor, talked about the discussions that he held with Rogue One director Gareth Edwards about their approach to the aliens. Rather than having them as creatures and beasts that are purely in the background, almost as decoration, Scanlon told MTV that their plan was to make the aliens more realistic so that they're a firm part of the storytelling.
Clearly, having dipped his toe into the Star Wars universe with The Force Awakens, Neal Scanlan is eager to continue his impressive work on the aliens and creatures that make this far, far away galaxy so enchanting.
However, Scanlan was quick to reveal that the process of working alongside J.J. Abrams and Gareth Edwards has been remarkably different. In fact, the Creative Director admitted that most of the 112 aliens and droids that populated Star Wars: The Force Awakens were rather simplistic, which was fine because they were only screen for a few seconds.
Far from complaining about this process, Neal Scanlan admitted that the job of these creatures and aliens was to emulate the Mos Eisley Cantina sequence from Star Wars: A New Hope, showing off a "real mixture of all different kinds" of aliens that illustrates how expansive and diverse the Star Wars universe is.
Obviously, with Gareth Edwards, their idea for Rogue One is to show that the aliens and humans work alongside each other, which means that it's a tad more complicated.
When he's not helping to create aliens for the Star Wars universe, Neal Scanlan has a wealth of experience when it comes to working as a special effects artist. In fact, for his efforts in this field, Scanlan was one of the recipients of the Best Visual Effects gong at the 68th Academy Awards for the film Babe. That's a Star Wars crossover that I think all of us can agree needs to happen.
Your Daily Blend of Entertainment News