How Charlie Hunnam's King Arthur Will Be Totally Different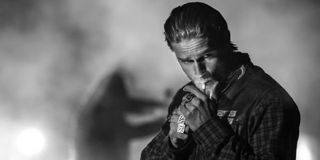 This is not your grandma's King Arthur. This Arthur is a dark and brooding action hero. Charlie Hunnam of Sons of Anarchy debuts as the once and future king on the latest cover of Entertainment Weekly, giving us our first look at Guy Ritchie's Knights of the Roundtable: King Arthur. The pair are bringing a Jax-ian edge the director thought the man so desperately needed, and they hope fans of Arthur won't be too offended.
EW went to the London set of King Arthur to chat with Hunnam and Ritchie. According to the filmmaker, he knew he had to make changes to the source material right off the bat. As he said, the pitfall lies in trying to make Arthur "bland and nice," which he says aren't "interesting to watch." Star Wars fans, brace yourself before continuing, because Ritchie went on to say that Luke Skywalker (Mark Hamill) "was always the most uninteresting character in Star Wars" because he was always the good guy. So he made Hunnam his Arthur in order to make a more gritty rendition of the character.
This Arthur was orphaned as an infant, raised by three prostitutes and grew up to become a "street-hood" looking after his small community. In describing his character, Hunnam said,
Though King Arthur seems to be a product of the post-Dark Knight world, Ritchie fully embraced the fantastical world often discarded with this character. This film will feature mythic beasts, such as a giant snake, war elephants and a creature called The Nemesis, which EW describes as "a monstrous viking-like creature."
Hunnam was also featured in a slew of character portraits shot by the magazine. You can see all the pics at the link here, but here's a preview of the actor channeling sexy Thor scruff while brandishing his sword, Excalibur.
Joining Hunnam's Arthur in this film are Djimon Hounsou as Merlin, Eric Bana as Arthur's father Uther Pendragon, Astrid Bergès-Frisbey as Guinevere, Jude Law as Vortigern, and Katie McGrath as Elsa. Knights of the Roundtable: King Arthur will hit theaters on July 22, 2016, and with the changes to the classical story of Arthur, producer Lionel Wigram just hopes "loyalists" won't be too offended by their interpretation. Though, when it comes to angry fans on the Internet, there are always going to be those with "ruined childhoods." At least this team seems somewhat prepared for the potential onslaught.