How Daniel Radcliffe Ended Up In Amy Schumer's Trainwreck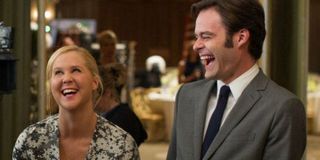 Amy Schumer's Trainwreck is set to be the funniest movie of the summer. Which is hardly surprising when you consider the cavalcade of comedic talent involved. But, with Trainwreck, director Judd Apatow also cast a variety of seemingly random celebrities, who he has been able to eke amusing performances from. One of these actors is Daniel Radcliffe, and Apatow has now explained how the former Harry Potter star got involved with the comedy.
Judd Apatow talked to The Hollywood Reporter at the premiere of Trainwreck, where he was asked how Daniel Radcliffe's cameo came to be, and it turns out that he was actually a bit of an afterthought. Apatow explained:
And according to Apatow's version of the events, both Radcliffe and Marisa Tomei shone when they created the fake film. In fact, even though they shot their scenes in a very short span they were still able to create a convincing fake indie in this time. He continued:
Daniel Radcliffe was previously spotted filming with Judd Apatow and Amy Schumer in Bryant Park last summer. An image of Radciffe chatting to the in-demand comedienne after walking a pack of pooches also appeared online:
It will be great to see Judd Apatow and Amy Schumer poking fun at Sundance's output. Sure the beloved film festival has allowed some of the greatest indie films of the last two decades to reach a more mainstream audience, but it's also produced some truly lousy, depressingly dull, and ignorantly pretentious efforts too.
Meanwhile, Trainwreck is shaping up to be a worthy addition to this summer's cinematic slate. Schumer's status has sky-rocketed after the hugely successful recent season on Inside Amy Schumer, while Bill Hader instantly makes anything that he appears in even funnier, and reviews have been hugely impressive ever since it screened earlier this summer.
All of this means that the film should easily recoup its $35 million budget, and, in the process, it will probably turn Amy Schumer into a bonafide big screen comedy star. We'll learn if that's the case when Trainwreck finally hits screens on Friday.
Your Daily Blend of Entertainment News