How Judd Apatow Feels About Opening Trainwreck Against A Marvel Movie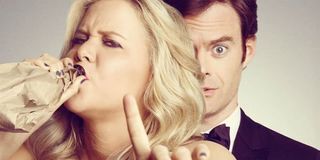 Going up against a big budget superhero film on opening weekend nowadays probably has to be one of the most terrifying feats for a Hollywood filmmaker. With big budget franchise films raking in crazy amounts of money and fans, competing with a film such as Marvel's Ant-Man is not exactly ideal for a film's opening weekend. But for Judd Apatow and his latest flick, Trainwreck, he's really not worried.
Trainwreck, starring Amy Schumer and Bill Hader, is a unique love story about a young woman completely against monogamy. She has no problem living a life that's commitment-free when it comes to romance, until one day she meets a guy who changes her mind. This teaming between Judd Apatow and Amy Schumer could just be the formula for super success, but Trainwreck's opening day falls on the same as a highly-anticipated Marvel movie, Ant-Man. So how does Judd Apatow feel about all of this? Well, when we sat down with him to chat about Trainwreck, he wasn't worried in the slightest, stating:
It's hard not to disagree. Paul Rudd is great, a super likable guy and a talented comedy actor. Plus, Judd Apatow is quite popular among comedians and vice versa. He's worked with Rudd a few times before too, most notably in This Is 40 and they are close friends. Apatow even got to see Rudd suit up in his Ant-Man gear long before the public. So we understand his best wishes towards his friend's success, but how is he not even a little worried? Well, Apatow shared a recent industry example that is giving him hope.
Just last month, Pixar's Inside Out opened against the massive blockbuster Jurassic World's second week in theaters. Two totally different movies — one a whole-hearted family animated comedy and the other a big effects-based dinosaur extravaganza. There was seemingly no competition, especially after the insane numbers that Jurassic World put up in its opening weekend (breaking two major box office records). But then the Pixar tearjerker showed up attached with voice work from comedy superstars such as Amy Poehler, Mindy Kaling, Bill Hader, Lewis Black, Phyllis Smith and more, and the clever adventure put up quite the fight with Indominus Rex. Inside Out ended up breaking a different box office record, taking in the highest gross for any original non-sequel property opening ever (topping James Cameron's Avatar). It was a huge surprise against initial estimates, and though it was the first Pixar film ever to open number two at the box office, the numbers were incredibly impressive. So naturally, when Judd Apatow thinks of two totally different movies going head-to-head, that have the potential to be big hits, Inside Out and Jurassic World were a prime example. And an exciting prospect for the expected underdog.
Though Marvel's Ant-Man is sure to put up big numbers, the Chris Pratt-led dino-thriller even knocked Avengers out of the box office park, so it seems unlikely Ant-Man can compete at that level. That being said, Trainwreck has the up-and-coming star power attached, as well as that Judd Apatow name (oh and Lebron James), that could put up some serious competition for Marvel's tiny superhero. Apatow is hopeful, and so are we, that Trainwreck is going to be a serious hit. Check it out for yourselves when it hits theaters July 17.
Your Daily Blend of Entertainment News