Why Amy Schumer Owes Her Movie Career To Howard Stern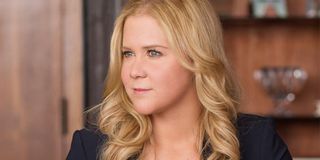 While the popularity of the raucously risqué comedian Amy Schumer has been growing steadily in recent years, her upcoming starring role in Trainwreck looks to be a major mainstream landmark. Interestingly enough, in a rather heartfelt display of gratitude, she directly attributed this impending career turn to exposure provided by Howard Stern.
Appearing on Howard Stern's radio program, Schumer discusses her expanding success with her television series, Inside Amy Schumer, and her starring role next month's release of the Judd Apatow-directed Trainwreck. In an exceptional moment, the sarcastic, wry Schumer seemed to be caught up in the ever-upward course of her comedic career and conveys kudos to Stern's role in stoking those fires. As Schumer told Stern:
Stern, one of the most cheeky, yet incisive interviewers out there, was taken aback by the sudden display of sentiment. Yet, Schumer, not completely lost in her emotional state, was still "on" enough to cut through the sappy tensions with her signature brand of off-color witticisms. After admitting to getting a bit teary-eyed over the fruits she is currently enjoying resulting from Stern's invaluable exposure, she continues:
Schumer's intimation that her appearances on Stern's show were the catalyst for her current success was more than just lip service. Judd Apatow recently revealed on Stern's show that he was listening to Schumer's appearance on October 2011 and found himself captivated by her raucous storytelling style that mixes dark humor with heartwarming personal concepts. In that appearance, she also told a story of her multiple sclerosis-stricken father in joking affection, saying that for a living, "he mostly just shits himself," all while still thinking himself to be gorgeous.
This interaction apparently inspired Apatow to encourage Schumer to adapt elements of her story into what became Trainwreck. In that sense, the headlining debut is an especially personal project. The film features Schumer playing a chronically commitment-phobic magazine writer who, despite her stringently casual approach to romance, finds herself falling in love with an awkward doctor (Bill Hader) who happens to have LeBron James as a best buddy. It's a bit of an existential impasse for Schumer's character, which also effectively reflects the unapologetic cynicism in her comedy.
The bittersweet emotional elation expressed by Schumer on the Stern show is certainly understandable, given how potentially monumental Trainwreck could be for her career. Having worked her way up from the stand-up comedy scene for several years, with sporadic acting appearances, this film will be a litmus test for not only Schumer's white-hot, Daily Show-snubbing popularity, but for comedies prominently focusing on women, in general.
Trainwreck is on track for an irreverent collision with not only standards of decency, but a glass ceiling, when it hits theaters on July 17.
Your Daily Blend of Entertainment News