The Reasons Amy Schumer's Trainwreck Has Such A Strong Sports Vibe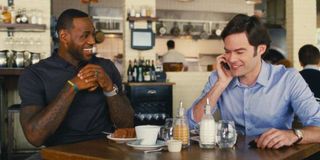 When the trailer came out for Judd Apatow's Trainwreck, it got everybody talking, specifically, what's LeBron James doing alongside Bill Hader and Amy Schumer? And then we started to notice the other star athletes featured, from John Cena to Amar'e Stoudemire and upon viewing the film, their roles, as well as the heavy sports vibe that went along with the plot, became increasingly important. So why so much sports-related content?
Well it turns out, Amy Schumer and Judd Apatow had a few reasons for working with this theme. From creating an interesting setting to Apatow's dream of shooting in Madison Square Garden, the sports-heavy vibe was exactly what the comedy duo were looking for. In sitting down to chat with Judd Apatow about his upcoming Amy Schumer film, the subject of sports was an obvious thrill for the director. He explained that growing up as a Long Island boy it was always a dream to shoot at Madison Square Garden, and when it happened, and the film rented out this gigantic arena, he felt as if he owned it. So as the writer of the screenplay, Amy Schumer must have been a sports fan too, right? Well, funny enough, Schumer actually knew very little about sports going in. Apatow explained:
And Lebron's role isn't just a cameo in the film. Yes, he plays an exaggerated and fictionalized version of himself, but he also is very dedicated to the friendship he and Bill Hader's character hold. The basketball star actually acts, and is much more talented on the big screen than expected. Apatow continued that Lebron was way funnier than they could've even imagined, with very natural comedy that the director "didn't spoon feed at all." And then, Schumer and Apatow saw Amar'e Stoudemire on Letterman, and he was so funny and charming that they knew they wanted him in the film, too. As for John Cena, he actually came in to audition, and Apatow claims he was one of the funniest casted in the entire feature.
But aside from all of these athletes adding a special flavor of comedy to the film, the sports vibe was additionally important because it gave Schumer and Apatow an interesting setting, an aspect the latter immensely values as a filmmaker. They wanted to open up a new idea, and everyone agreed it was a unique one at that.
And the combination of those three superstar opinions could just breathe comedy gold. This viewer was most definitely sold, and you can see for yourself this week, when Trainwreck hits theaters on July 17.
Your Daily Blend of Entertainment News