How Dave Bautista's James Bond Henchman Will Be Different Than Our Expectations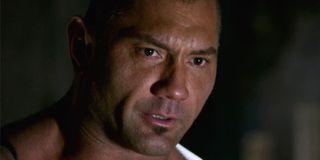 After seeing Dave Bautista give a surprisingly funny and memorable performance as the emerald alien ass-kicker Drax The Destroyer this past summer in Guardians of the Galaxy, it seemed that a star was finally born. But with the Guardians sequel still a few years away, Bautista is currently checking another high-profile role off his cinematic list – namely that of a James Bond villain in the upcoming Spectre. However, according to Bautista, don't expect his character to be just another vacant muscle-head. Instead, we should be expecting a lot more from his role as Mr. Hinx
In an interview with Empire Magazine, Bautista discussed some of the surprising aspects of his villainous role in the Bond sequel in a piece that would also provide the very first official photo of the character. (Which you can view for yourself here.) It seems that, going into the role in Spectre, Bautista was cautious about the trappings of typecasting. While he certainly had enough self-awareness to understand that he didn't nab this villainous part based on his riveting skills as a thespian, he did want to make sure that this role would have some depth. The actor explained
The giant, angry-looking, goatee-sporting, newsboy-cap-rocking, double-barrel-pistol-wielding maniac we see in the new picture, coupled with the quirky name "Mr. Hinx" might evoke thoughts of a more conventional, silent type of Bond villain. However, Dave Bautista's words seem to indicate that this enigmatic ne'er-do-well will be giving Daniel Craig's James Bond more than a handful in both the physical and psychological arenas, and might even start trading witticisms and puns with the covert cosmopolitan wielder of a license to kill.
However, despite what seems to be a surprisingly poignant turn in our expectations for the mysterious Mr. Hinx, it seems that he will only be the second fiddle to the film's main villain – though exactly who that will be is still a bit of a mystery. There is evidence pointing to that particular role being played by two-time Oscar winner Christoph Waltz, though it hasn't been officially confirmed. The star of Inglourious Basterds and Django Unchained has managed to position himself as the go-to actor for smart, witty, eloquent villain types, and his upcoming role in Spectre as a character named, "Oberhauser" (which roughly translates to "The House of Lords,") isn't expected to be any different.
Regardless of who turns out to be the sinister evil titular organization's clandestine architect, we should expect some outstanding action from the former WWE superstar-turned MMA fighter-turned movie actor, Dave Bautista. Coming off the momentum of Guardians of the Galaxy, he should make a magnificent addition to the cast when Spectre hits theaters on November 6th.
Your Daily Blend of Entertainment News