How Die-Hard Star Trek Fans Helped Simon Pegg When His Star Trek Beyond Script Hit A Snag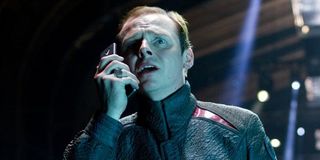 Fan is short for fanatic. Some people get really into certain bands and follow them around the country. Other people fall in love with particular comic book characters or TV series. If you're reading this, there's a good chance there's a movie franchise that you tend to go a little crazy over or maybe it's just movies in general. Star Trek has one of the longer running popular fandoms in the world. They're so dedicated that their knowledge of the property allowed them to actually assist Simon Pegg in crafting the script for the new Star Trek film by helping him come up with names.
The newest Star Trek movies have the strange distinction of being new, while also steeped in the history of the original television series. This means that while the stories are original, much of the terminology and jargon that the characters would use has already been created. Simon Pegg recently told Coming Soon that when it came to getting all of the language right in Star Trek Beyond he, and his writing partner Doug Jung, relied on the Star Trek Wiki Memory Alpha, because it was a comprehensive resource that contained everything they needed. The relationship between the two went further, however, as Pegg ended up enlisting Memory Alpha's help when he needed to come up with something new.
The best part is that you know at some point in the lives of the creators of Memory Alpha, people asked them why they bothered with something like that. What was the point of spending all their time on Star Trek? It turns out the point was, at least in part, to not simply catalog the history of the franchise, but to play a part in helping to build it as well. They were able to take whatever information that Simon Pegg gave them and create a name for a device that would make sense based on the way similar devices have been named throughout the history of the franchise. It takes a certain dedication to be able to put that together in two hours.
Star Trek Beyond will be released this summer as part of the 50th Anniversary of Star Trek. Fans have been dedicated to the franchise since pretty much the beginning. The fact that the original series received a third season is in large part due to one of the first fan letter writing campaigns over a TV series that ever happened. We're looking forward to the next chapter in Star Wars and seeing Memory Alpha's creation receive it's own entry in the Wiki.
CinemaBlend's resident theme park junkie and amateur Disney historian. Armchair Imagineer. Epcot Stan. Future Club 33 Member.
Your Daily Blend of Entertainment News
Thank you for signing up to CinemaBlend. You will receive a verification email shortly.
There was a problem. Please refresh the page and try again.