Simon Pegg Quit Writing Star Trek Several Times, Was Always Convinced To Return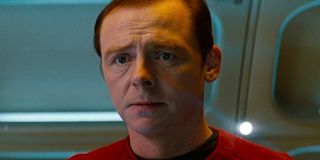 When Star Trek cast member Simon Pegg, alongside Doug Jung, was tasked with writing duties for the rebooted film franchise's third entry, it undoubtedly represented the most encompassing, pressure-filled task of his screenwriting career. In fact, the experience apparently left the current Mr. Scott looking to abandon his literary engine room on a number of occasions.
In an interview with Australia's Sydney Morning Herald, Pegg, an accomplished screenwriter of beloved quirky, genre-bending comedies, discusses how he had to be talked off the proverbial ledge from his current task, titled Star Trek Beyond. Fortunately, the man who initially oversaw the Star Trek reboot effort, J.J. Abrams, was always there to put him back in place. As Pegg explains:
In the recent months since his scriptwriting duties for Beyond were revealed, Pegg has been rather vocal about the difficulty of the adjustments he had to make as a writer. He made quite a mark as a creative talent in movies like 2004's zombie satire Shaun of the Dead, 2011 alien romp Paul, all the way to the 2013 invasion sendup, The World's End. However, the more collaborative, micromanaged nature of this Star Trek project has left him feeling more like, as he told Den of Geek earlier this year, "a custodian of something."
Yet, for all the temporary moments of doubt, he did accomplish his textual task, even to the point that about 45 pages needed to be trimmed off the finished work. With the initial tumult in hindsight, he can point to the experience of hacking away at the script with writing partner as a pivotal moment in his 20 year career in front of both a camera and a keyboard. In fact, Pegg elegiacally recalls one of his early starring/scribing efforts in the U.K. television series Spaced, in which his geeky, pop culture-imbued character, Tim, using a well-known narrative, takes a jab at the Star Trek film franchise that seems to have come to an especially ironic full circle. As Pegg recollects:
Furthering the irony of that expression of fanboy-fueled ire, the tidbits that Pegg has revealed about the tone and general direction of Star Trek Beyond could be seen as controversial, notably his recent comment implying his intention to make the film "less Star-Treky." This entry will apparently focus more on the exploration of deep space and the discovery of new species. The apparent (and potentially controversial) intent is to capture the spirit of the original 1966-1969 television series, rather than indulging purists by adapting specific storylines.
Star Trek Beyond will be an important test for the franchise when the threequel hits theaters on July 8, 2016.
Your Daily Blend of Entertainment News
Your Daily Blend of Entertainment News
Thank you for signing up to CinemaBlend. You will receive a verification email shortly.
There was a problem. Please refresh the page and try again.