This Is How Disney's New Cinderella Will Differ From The Animated Classic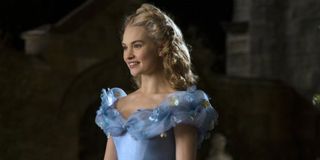 Disney has heard the word, and the word is that their female characters need to be better, stronger and more realistic. So they quickly did away with the damsel in distress and began a journey that culminated with the musical smash Frozen. But now that the Mouse House is making a new live-action rendition of Cinderella, to be based on the classic fairy tale (and animated movie), will our leading lady slip back into old habits? According to director Kenneth Branagh, she will be a strong, intellectual force.
As he told The Hollywood Reporter at the Berlin Film Festival, his new take is "not about a man rescuing a woman." The way he describes Cinderella is, actually, reminiscent of Drew Barrymore's Ever After. This iteration of the classic fairy tale saw the future princess infatuated with books and learning everything she could about the world, while getting to know her future prince little by little until a romance blossomed. Branagh seems to be taking some queues from this film.
According to the director, this new Cinderella (played by Lily James) will be introduced as a fully grown adult, instead of beginning the film with her as a child and experiencing the death of her father and mother. She too will be well-read and "already intellectually stimulated." Given her kind soul, she actively makes the decision to try and understand why her step-sisters and stepmother are as cruel as they are. Branagh describes this sensibility as "a form of non­-violent resistance." Much like Barrymore's version, James' will be introduced to her Prince Charming long before the ball. As they get to know one another, they'll begin to fall in love with each other. This Cinderella sounds like someone with a good head of her shoulders, which is bound to make her happy when she learns she was raised by "Agent Peggy Carter." (Yes, Hayley Atwell plays Cinderella's birth mother in the film.)
Disney's new thing is shattering everything we think we know about famous fairy tales by presenting "the true stories" behind them. Maleficent took us into the world of the wicked witch from Sleeping Beauty, Oz: The Great and Powerful depicted how the sister sorceresses became so cruel, and Into the Woods brought the Sondheim musical about warped fairy tale figures to life. In the latter, we saw Anna Kendrick play a version of Cinderella who was pretty ambivalent about marrying her prince. That proved to be a good call, as Mr. Prince Charming turned out to be an asshole. Though Branagh's Cinderella has all the elements of the classic animated musical that we grew up with — the funny mice, the fairy godmother (played by Helena Bonham Carter), the glass slipper — there stills seems to a new, fresher spin on this tale.
Cinderella opens in the U.S. on March 13.
Your Daily Blend of Entertainment News