How Seth Rogen Became Hollywood's Biggest Comedy Star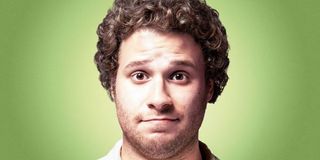 Most box office prognosticators were discussing the possibility of Neighbors scoring a big opening weekend. But few were expecting an explosive $49 million off the back of star Seth Rogen. Rogen produced and starred in Neighbors, which is bound to become his biggest overall hit. So the question now must be asked: Is Seth Rogen the biggest comedic actor in Hollywood?
Considering their run of successes, you'd think Adam Sandler and Ben Stiller would be contenders for this title, but both have core audiences that have soured on them as of late. Some would venture Will Ferrell, but he's adrift without collaborator Adam McKay, his frequent director. Steve Carell, Paul Rudd and Jonah Hill seem more intrigued by dramatic acting lately, while Jim Carrey and Vince Vaughn are dealing with core demographics that have aged out of seeing their films. As for the industry's top female comedians, it's Hollywood's fault for not writing enough material for them, stranding talents like Tina Fey, Kristen Wiig and Emma Stone in moderate projects. The closest contender to Seth Rogen in Hollywood's field might be Melissa McCarthy, but her hot streak simply hasn't run as long as Rogen's.
The actor's other toughest competitor at the box office is probably Kevin Hart, and Rogen's already spotted that potential. The duo is teaming for an untitled cop comedy for Neighbors director Nick Stoller. You'll notice that Rogen's basically a product of a starry environment, the class of Judd Apatow acolytes (Hart is one as well) who began on Apatow's two canceled series, Freaks And Geeks and Undeclared. The list of future stars to appear on these shows is massive, from Jason Segel to James Franco, from Charlie Hunnam to Jay Baruchel, and even Shia LaBeouf and Lizzy Caplan.
It seemed like a reach that Seth Rogen would be the biggest star of the Judd Apatow bunch. Which speaks more to the biases we have about physical appearances more than anything else. No one, aside from maybe Martin Starr, had funnier lines of dialogue than Rogen's Ken in Freaks And Geeks. And while Starr earned considerably more screentime, you could argue Rogen did more with less. His sarcastic stoner basically sat in the background during the bulk of the show's one-season run, making his shift into romantic leading man territory all the more rewarding. He seduced "Tuba Girl" not with his marquee good looks, but with his endless, overwhelming pessimism, an obvious facade for an obviously nice guy.
By the time Rogen graduated to films, most thought he had a clear path to a career of playing funny best friends, as he did in The 40 Year Old Virgin and You, Me And Dupree. It was Judd Apatow who scuttled that plan by casting Rogen as an actual romantic lead in Knocked Up. The posters were instantly iconic – a dazed and confused Rogen, just as surprised as you were that he was a Hollywood star, with his pale skin and pot belly. But you bought him, and you identified with him. Maybe not as yourself, but as your roly-poly best friend, constantly getting himself into tight spots, constantly pessimistic in a way that was charmingly reliable. Everyone in that Apatow gang had their own special skill or appeal. Rogen's was simple. You liked him.
What's instructive about Seth Rogen's fame is that he never stopped working behind the scenes. If you don't look like a mega movie star, you'd best be writing yourself suitable material, or at least write for other people. Rogen and writing partner Evan Goldberg (one of many Rogen collaborators that can primarily be called friends) penned Superbad and Pineapple Express, screenplays that gave Rogen the freedom to expand beyond his range. And yes, the Goldberg/Rogen penned The Green Hornet didn't work for some, but it forever removed Rogen out of that bombed-out-young-Elliot-Gould phase and into respectability.
Like many funny people, Seth Rogen's trying to branch out of the comedy world. But intriguingly, he's doing so by taking on more producing and directing jobs. Last year's This Is The End, the directorial debut of the Rogen/Goldberg teaming, was the comedy breakout of the year. They're following that with The Interview, reuniting Rogen and James Franco once again, which seemed like a comedic idea until it was revealed there's a heavy action element, as well. Rogen and Goldberg are also producing Franco's The Disaster Artist, while they write the screenplay for Console Wars for producer Scott Rudin, an idea that actually has awards potential. And not all of the Rogen/Goldberg ideas sound promising, but they're different and unique: the duo are producing a TV adaptation of the very difficult graphic novel Preacher, and are behind an R-rated animated movie called Sausage Party that sounds like precisely one joke, repeated over and over again.
We're nearing a decade into Seth Rogen's big-screen career, and the amazing part is how he may have become the dominant comedic voice of his generation for now while still intensely diversifying his portfolio. Rogen's likely going to keep his career focused to one or two big-screen comedies a year while writing and directing scripts of his choosing, all to guarantee longevity. The secret won't be to top $49 million next time around, but to let the audience trust Rogen as a consistent, reliable force in comedy. Or, to put it simply, to just like him.
Your Daily Blend of Entertainment News
Thank you for signing up to CinemaBlend. You will receive a verification email shortly.
There was a problem. Please refresh the page and try again.