Seth Rogen, Evan Goldberg To Pit Nintendo Vs. Sega In Console Wars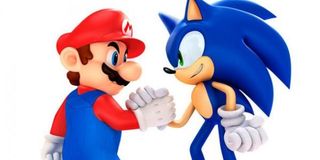 There are few industries within the world of entertainment quite like video games. The various consoles have battled for years, with the blips and bleeps of Atari giving way to a bloodthirsty struggle between the titans of Nintendo and the upstarts at Sega. That battle is chronicled in the book Console Wars by Blake J. Harris, detailing how Sega would rise up to challenge the Nintendo behemoth from the 16 bit era and beyond. And with the book scheduled to hit this August, that struggle is about to become a movie.
Coming Soon reports that Seth Rogen and Evan Goldberg are currently adapting the book into a screenplay with an eye on directing. The duo previously helmed This Is The End, which grossed $100 million last summer and got them the job working on the political comedy The Interview, where Rogen reunited with Pineapple Express co-star James Franco. Apparently people like what they see of The Interview, which hits this October-- enough for the duo to get the gig from superproducer Scott Rudin.
In the eighties, Nintendo dominated the market with their 8-bit gaming console systems, effectively neutralizing the computer game business for a short period. But Sega came along and promised innovation in the form of the Genesis, a 16 bit computer system featuring a mascot, Sonic the Hedgehog, that would rival Nintendo's Super Mario Bros. Soon, the answer would come in the form of the 16-bit Super Nintendo, starting a cross-console struggle for videogame supremacy. The book apparently puts a face on Sega's rise to power, crediting Tom Kalinske, a non-gamer, with reinventing the company.
With the presence of Rudin, who mined similar territory for The Social Network and Moneyball, there's the sense that this is going to be a more serious film, possibly something more awards-friendly. That's quite a leap for Rogen and Goldberg, who together wrote the scripts for Superbad, The Green Hornet and This Is The End. While not without its comedic elements, this battle suggests a sober-headed view of a corporate titan trying to hang onto relevance, and a canny newcomer ready to go twelve rounds.
You hope it's nothing like what happened with Ruben Fleischer, who started his career helming fratty comedies Zombieland and 30 Minutes Or Less, only to fail to turn major WB property Gangster Squad into anything but a big budget cartoon. Rogen and Goldberg (who are also at work on the animated film Sausage Party) seem like they're made of sterner stuff: This Is The End could have been a disaster, and not one of the year's funnier movies. And Goldberg had his fingerprints on Goon, a wonderfully underseen hockey comedy he co-wrote with Jay Baruchel. Regardless, if you're a certain age, no doubt you'll find a side to root for in the onscreen battle between Nintendo and Sega.