How The Stars Of Kill Bill Got In Such Incredible Shape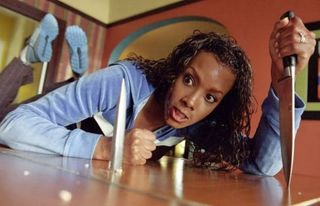 The Kill Bill series is known for some of the most badass choreographed fight scenes on film. And the recognition is well-deserved considering the hard work and intensive training put in by the stars of the film.
The incredible physical shape of Kill Bill stars such as Uma Thurman and Vivica A. Fox did not come without crazy hours and months of intense physical training, dieting, and bruising. In a recent AMA, Vivica Fox answered one fan's question on what it took to get into the physical shape seen in her fight scene with Uma Thurman. Fox responded:
The dedicated Vivica A. Fox went through months of training, bruises and battle scars all for one scene. But, that one scene is arguably one of the best female fight scenes ever produced. Set in a clean and quiet suburban home, Thurman shows up at Fox's doorstep on a mission to kill. There's nothing flashy or feminine about the scene. It is a straight up brawl that shows the brute physical strength of these two badass females.
And that physical strength is not Hollywood-faked either. In the interview after the Kill Bill: Vol 1.footage shown above, Fox admits that she filmed 95% of the fight, with only the throw into a glass table done by a stunt double. She responds to a question about her training:
It's almost incomprehensible to think that most of these fight moves were learned and perfected in a mere 6 months. Not to mention, Thurman had just given birth before shooting. Fox reminisced on Thurman's training process during her Reddit AMA:
It's a relief to know Thurman and Fox got at least one cheat day, with pizza. Otherwise, all of that Taekwondo training may have been used off set as well.