How X-Men: Apocalypse Is Already Setting Up Dark Phoenix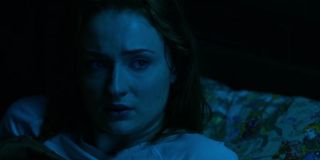 While X-Men fans are gearing up for the coming war in X-Men: Apocalypse, Fox seems to be looking ahead towards the future of the franchise. As the X-Men universe has gone back in time to explore the origins of some of the original trilogy's key characters, it presents new opportunities to try certain arcs and storylines again. One of these storylines is Jean Grey's Dark Phoenix Saga, and it looks as though Fox is eager to get that story off the ground once more.
CB recently presented this theory, which stems from a couple of key moments at the beginning of the X-Men: Apocalypse trailer. It begins with a distinctly feminine figure – identified by Director Bryan Singer as Jean (Sophie Turner) – walking into Cerebro. The trailer then shifts to Jean appearing to wake up from a nightmare in which she witnesses the end of the world. In the trailer Professor X (James McAvoy) calmly and genuinely reassures the young girl that what she saw was little more than a dream, but Singer explains that the film will play that moment quite differently:
This admission by the director has led many to believe that Xavier is not calming Jean down because she foresees the arrival of Apocalypse (Oscar Isaac), but he is actually harboring suspicions about her and her powers. The Dark Phoenix Saga in the comics revolves around Jean Grey being possessed by a cosmic entity (the "Phoenix" persona) which taps into her potential power and corrupts her into a villain that the X-Men must face off against; the arc ends with Grey killing herself in order to defeat the Phoenix persona. That's the Sparknote version of the storyline, but what's more important to know is that it's generally considered one of the most iconic X-Men stories of all time, and deserves a proper adaptation.
As many fans already know, Fox attempted to adapt the Dark Phoenix Saga in the poorly received X-Men: The Last Stand. This iteration of the story differed greatly from the source material, and really only served as a terrible star-crossed love story between Wolverine (Hugh Jackman) and Jean (Famke Janssen). The overall execution of Brett Ratner's take on the arc was so poorly received that it led to the overall reboot of the X-Men franchise that we have come to love in recent years. With comic book movies becoming less grounded and willing to adapt certain storylines more faithfully, it seems entirely likely that Fox is setting up the Dark Phoenix Saga once again for a more true-to-source adaptation.
Based on the evidence it seems increasingly likely that this is the direction that the X-Men franchise will take once they deal with the immense threat posed by Apocalypse. With the departure of Hugh Jackman's Wolverine from the franchise, it will be more than a little enjoyable to see the right amount of attention given to Jean Grey's Dark Phoenix persona, rather than making her a psychotic love interest for the adamantium clawed Logan. X-Men: Apocalypse will hit theaters on May 27, 2016, and we will keep you posted on all X-Men news as it becomes available to us.
Your Daily Blend of Entertainment News
Originally from Connecticut, Conner grew up in San Diego and graduated from Chapman University in 2014. He now lives in Los Angeles working in and around the entertainment industry and can mostly be found binging horror movies and chugging coffee.