Hugh Grant May Romance Marisa Tomei In College-Set Rom-Com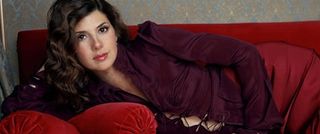 Marisa Tomei has seemed to be exceeding our expectations of her for her entire career, or at least from the moment it really took off. When Tomei won the Best Supporting Actress Oscar in 1993, there were rumors that Jack Palance had read out the wrong name-- even though Tomei's performance in My Cousin Vinny remains a comedic standout. And maybe because that rumor has dogged her, every time Tomei has turned in a strong performance over the years-- in the harrowing In The Bedroom, or when she earned her second Oscar nomination for The Wrestler-- people seem to have been surprised, as if she hasn't already proved well enough that she's got the goods to stick around.
But even if you know that Tomei is a gifted actress, her next role might be surprising you anyway. The Wrap reports that Tomei is in negotiations to join Hugh Grant in what's being given the ungainly name of Untitled Marc Lawrence Project. What you need to know is that it's a rom-com, from the director of Two Weeks Notice and Music & Lyrics, in which Grant plays a washed-up Hollywood screenwriter who takes a job teaching at a small college and falls for a single mom (Tomei) who is going back to school for her education. Yes, it's total rom-com boilerplate, but so were both Two Weeks Notice and Music & Lyrics, and they were very much perfectly fine examples of the genre (we'll forget about Lawrence and Grant's third collaboration, Did You Hear About The Morgans?, for their own sake).
Tomei has excelled at playing single moms in recent years, through The Wrestler and Cyrus, and also tends to have no trouble sparking up a romantic connection with any given co-star. Grant, on the other hand, has been working sparingly in the last few years, and sometimes seemed eager to get away from his rom-com reputation. But clearly he and Lawrence get along well enough, and if it gives us a chance to see Grant out of his cannibal makeup from Cloud Atlas and flirting bashfully with Tomei, well, who are we to complain?
Staff Writer at CinemaBlend
Your Daily Blend of Entertainment News
Thank you for signing up to CinemaBlend. You will receive a verification email shortly.
There was a problem. Please refresh the page and try again.