Hugh Hefner Biopic Snags The Queen's Screenwriter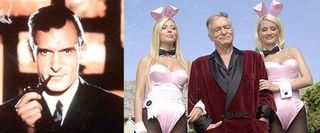 Screenwriter Peter Morgan has repeatedly spun true tales into Oscar gold, writing the screenplays for The Last King of Scotland, Frost/Nixon, and The Queen. Now it seems Playboy founder Hugh Hefner could be next up for the Morgan treatment as Hefner himself as tweeted that he had met with the heralded scribe to discuss a possible biopic. THR confirms that Morgan has entered into negotiations to translate the controversial millionaire's life story into a feature for Warner Brothers.
From the studio's perspective, they'd be hard pressed to make a better pick for such a script than Morgan. The English writer has a distinct talent for making history come to life and transforming outwardly cold characters someone audiences can identify with, or at least see outside of their notorious reputations. Really, it seems like Morgan is almost destined to tackle the porn impresario who has long been a subject of fascination by his fans and detractors alike.
Ever-clad in a smoking jacket with a bevvy of interchangeable buxom blondes on his arms, Hefner could be written off as the quintessential cliché of the dirty old man, if it weren't for the strikingly intelligent and insightful sound bites he sometimes offers. As someone who finds much of his lifestyle distasteful at best, I can't deny finding this complexity intriguing. And I expect it's this very balance of brains and unapologetic lust that has drawn Morgan to Hef's life story.
Notably, a depiction of Hefner appeared in Morgan's Frost/Nixon, played by Mark Simich. More recently, James Farruggio portrayed him on the short-lived Bunny-centered TV drama The Playboy Club, and James Franco has slipped into his signature smoking jacket for the upcoming Linda Lovelace biopic Lovelace. With all this as preface, and a picture of younger Hugh above for reference, who would you like to see play Hefner? Personally, from an eerie resemblance and his ability to dive headfirst into smut and come out clean as he did in Shame, my pick would be the always fascinating Michael Fassbender.
Your Daily Blend of Entertainment News
Staff writer at CinemaBlend.
Your Daily Blend of Entertainment News
Thank you for signing up to CinemaBlend. You will receive a verification email shortly.
There was a problem. Please refresh the page and try again.