The Hunger Games: Catching Fire Reveals IMAX Effects And Insane Ticket Sales (Already!)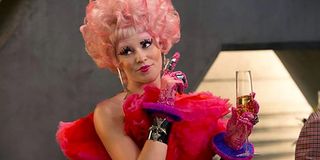 The Hunger Games: Catching Fire doesn't open in theaters until November 22, but based on what we're seeing today, it might be the only movie anybody is talking about between now and then. The excitement is all over the place, starting with a bunch of brand new images like the one above in a new gallery at Entertainment Weekly and going all the way to ticket sales. According to Fandango, Catching Fire made up 70% of the site's sales on Tuesday, which was the first day they were available. It outsold all current releases by a margin of 8 to 1, which means if you thought people were psyched about Cloudy with a Chance of Meatballs 2, you've seen nothing yet.
Fans who buy their Catching Fire tickets early at Fandango earn a free download of Phantogram's "Lights," one of the songs from the star-studded soundtrack for the film. But if you want a different kind of glimpse behind the scenes, you can also check out this brand new featurette about the film's use of IMAX cameras. From what I can tell, it's the first time we've learned the exact moment that the screen will switch from the traditional aspect ratio to IMAX-- and director Francis Lawrence has chosen a pretty striking time to do it.
The IMAX cameras aren't the only evidence that Catching Fire is enjoying a serious budget upgrade from The Hunger Games, which was made for a reported $78 million and went on to make $691 million worldwide. In the featurette above there are so many CGI shots of the Capitol and the pomp and circumstance that surrounds the Hunger Games, something that was represented in the first film by some quick matte shots of a train speeding by mountains and a scene of what looked like about 200 people crammed inside an auditorium, with vaguely weird Capitol-style outfits. It won't just be Elizabeth Banks's Effie Trinket who gets some gloriously crazy outfits this time, and though the flame effects on Katniss and Peeta's outfits don't seem to have improved that much, overall Catching FIre is looking like a serious visual upgrade. The IMAX is just a bonus.
The Hunger Games: Catching Fire comes to theaters on November 22. You can check out the newest trailer below and let us know if the visuals have you as impressed as we are.
Staff Writer at CinemaBlend