The Hunger Games And I, Frankenstein 2013 Comic-Con Live Blog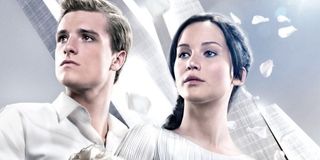 There has been a lot of talk about the move at Comic-Con to replace the ballroom-packing Twilight panels this year with similar YA material. Divergent and The Mortal Instruments took their turns at charming the Hall H masses. Yet, with all due respect, those properties can't hold a candle to the influence exerted by The Hunger Games, which is about to take over Hall H for a massive Catching Fire presentation.
Lionsgate, additionally, will bring I, Frankenstein to the stage this morning, but we know that this panel lives and dies by The Hunger Games, and we'll do our best to bring you every detail.
We're still not entirely sure who'll be on the Hunger Games panel, with the studio only teasing "talent" from the movie. You'd have to guess Jennifer Lawrence, Josh Hutcherson and Liam Hemsworth will be in attendance, along with director Francis Lawrence. We'll know soon enough, as the panel should begin shortly.
1:44 The Lionsgate panel begins in a surprisingly awesome way … with a full trailer for You're Next!
1:48 Knowing that it has to tease The Hunger Games, Lionsgate starts with I, Frankenstein, bringing out writer Stuart Beattie, to comic's creator Kevin Grevioux, Dexter star Yvonne Strahovski and Aaron Eckhart. Beattie, knowing that he needs to set up this premise, teases "a Frankenstein who has been alive for 200 years, still searching for a purpose." The monster gets caught up in a war between gargoyles and demons. The Frankenstein monster "holds the fate of mankind in his hands." Eckhart says he's "at 11 … all the way to 11" on scale of badasses he has played. We're told that the movie's in 3D, and they have five months left to shoot. There will be a conversion to 3D. But they're showing us unfinished footage, which they're very proud of. Here we go!
1:54 They are diving into the origins of the original comic, and they get into the deep physical training for the film. I'll say this about the footage. We're told that it comes to us from the producers of Underworld, and it shows. The footage is dark and wet, with a lot of choreographed kung-fu fighting. The tech-metal soundtrack sets the tone. Consider this an extension of the Underworld franchise ... with Bill Nighy in the supporting cast, to boot!
1:56 We must not have a LOT to talk about with Frankenstein, because the crowd already is goading Eckhart into taking off his shirt to prove that he's still in fighting shape. He flexes a bicep. Impressive, I guess.
1:57 And we're already into fan questions! Wow. First fan asks how this fits into Mary Shelley's original source material. Though Beattie says that it will be a continuation from the final pages of Shelley's novel, this will be a wildly different interpretation. Eckhart tries to tell us that there will be a lot of human elements in the story, the footage was ALL action and little character development. One fan asks why the Frankenstein monster looks so handsome and less ... Frankenstein-y, and Beattie admits, "There are only so many things we can do to make Aaron Eckhart less handsome."
2:00 A fan gets up and creeps poor Strahovski out by telling her, at length, what a fan his father is of her. When he finally gets to a question, it's interesting. They talk about her character, a scientist, realizing that a doctor 200 years ago did what she dreams of doing. And with that, the panel concludes. Hunger Games time!!
2:02 Catching Fire logo on screen. Crowd goes nuts.
2:03 Here comes the cast! Willow Shields, Lenny Kravitz, Jeffrey Wright, Liam Hemsworth (hugh cheer), Josh Hutcherson (huge cheers) and Jennifer Lawrence (deafening roar!) hit the stage!
2:06 Panel host Dave Karger keeps making a big deal about this being the first Hunger Games panel in Hall H. Director Francis Lawrence calls this "a dream cast, a dream story." He'll be on board for the next three Hunger Games movies.
Lawrence talks about Katniss, saying that she has a new life, a privileged life, but she's experiencing both post-traumatic stress and a new attraction to Peeta. Hutcherson is asked about the intensity of the love triangle. They keep talking about how complicated their relationships are. And Hemsworth talks about a torture scene, saying how difficult it is to show up on set and get whipped "for three days straight." He actually says, "It was good fun!"
2:10 Footage! New trailer! BRB!
2:13 This is the first time the cast has seen that trailer, and they are all pumped up! "That was amazing," Lawrence says. "I don't remember ANY of that!" The footage is impressive. Much bigger in scope, with larger sci-fi elements to it. I haven't read the book, but this seems like it's very much the plot of the first film. Is that the case? At the very least, it's bigger, and more improved. The crowd went nuts for the first Finnick reveal. The footage played very well with this crowd.
2:15 The new actors, from Jena Malone and Jeffrey Wright, talk about the fun of joining the cast. Karger starts asking Lawrence in winning her Oscar felt at all like winning The Hunger Games. The actress is her usual charming self. "Well, the stakes were much higher [in the Oscar race]." She mentions Winter's Bone and gets an applause break. "Wow! We should have come here," Lawrence says.
Answering a question about how hot the kisses will be in the movie, Hutcherson and Lawrence talk in depth about "a huge stream of snot" that comes out of Jennifer's nose and lands in Josh's mouth! The crowd is breaking up. "So yeah, they'll be really hot!"
2:21 Responding to a fan question about their favorite wardrobe options, Lawrence talks about the Wedding Dress. "I loved it because it's understated," she says. "That was sarcasm." She also jokes about how uncomfortable that made her. "Because as you know, I'm not very good at walking in big dresses," referencing her Oscar trip and fall.
2:23 First fan question. A little girl who adores Jennifer Lawrence asks for her name plate from the panel table. "Sure," she says. "Can I turn this into a paper airplane?"
2:25 So far, The Hunger Games gets the award for Most Adorable panel, thanks to the fans. A 13-year-old girl in a Superman suit reads her question off a card. It's so sweet. She tells Jennifer that she loved her in Silver Linings Playbook. "You were able to see that movie?" Hutcherson interjects. "That is so weird." The question is about Lawrence's biggest physical challenge. She says running is ALWAYS a challenge for her, "and trying not to hit myself in the face with my own bow."
2:27 Another girl steps to the mic and tries a Kim Possible joke. It connects with Lawrence. "You're funny," the Oscar-winning actress says. She's clearly enjoying this panel! She talks about juggling massive projects like Hunger Games and X-Men with indies. She says she sometimes prefers having less money and needing to struggle on a small-budget film. Except the food is much better on a big-budget studio film. That's our Jennifer! She concludes with, "They're both special. Sorry!"
2:30 There's a question about the cast chemistry. Everyone got along, despite the fact that half the cast is much older. Jeffrey Wright says Josh and Jennifer have a special relationship, and are very funny together. "I always want to hang out with her," Hutcherson says. "She never wants to hang out with me."
2:32 Another fan wants to know about the food that they ate on set, for some reason. Lawrence says they didn't starve themselves for the sake of their roles. "There was no dieting. ... But I ran around a lot." Some questions just don't matter. The next fan to the mic is a huge fan who's so overwhelmed, she can't speak. She actually stops speaking mid-sentence, and just floats away from the mic. It is cute as hell. The cast jumps to her rescue, talking about how the first film changed their lives. Kravitz gets the best answer. "It was great. I'm new to film. I have a day job. I have to make music. But I have young kids who come up to me and want to meet Cinna. They have no idea who I am."
2:36 Panel is drawing to a close. Do we want to see the trailer one more time? Here we go!
The footage gives a great intro to Katniss' new antagonists. Lucky for you, you can watch the new trailer right here. The panel's done. Catching Fire opens in November.
Managing Director at CinemaBlend. ReelBlend cohost. A movie junkie who's Infatuated with comic-book films. Helped get the Snyder Cut released, then wrote a book about it.