Divergent Comic-Con Panel Live Blog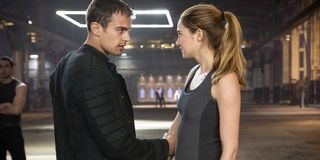 Summit is doubling up on futuristic adaptations with their SDCC panel this year, giving fans a look at both Ender's Game and Divergent. We're covering each film with a separate live blog. This is the live-blog for Divergent, which is based on a novel by Veronica Roth and stars Shailene Woodley as Tris Prior, a young woman living in dystopian Chicago where society is divided into five factions, which determined a person's way of life. The film's not due out until March 21, 2014, so we haven't actually seen any footage from it yet, beyond the production stills that have been released. That changes today, however, as Summit's giving those of us in Hall H our first look at some footage from the thriller, which comes along with a Q&A session with the cast of the film, including Woodley, Theo James, Miles Teller, Maggie Q, Ansel Elgort and Mekhi Phifer, among others. Veronica Roth and the film's director Neil Burger will also be on the panel to answer questions.
Here's the full description for the panel.
3:56 - Chris Hardwick is moderating! He begs us not to get sick of him since he's going to be around a lot during SDCC. He announces that we're going to get to see the first footage seen for Divergent today. Hardwick welcomes the writer, actors and director out onto the stage. Asks Veronica and Neil to discuss the world of Divergent. Burger says the book takes place 100+ years into the future in Chicago. People cheered and Hardwick interjects to point out that it's a dystopian Chicago. Roth starts talking about the five factions each based on different virtues - bravery, selflessness, honestly, intelligence and peacefulness/kindness. The book is about Tris' choice to be Dauntless (brave), which means leaving her family behind. Burger talking about the aptitude test that people have to take to figure out what faction they're best suited for. When you learn the results, there's a ceremony and make your choice by dropping blood into one of the five bowls.
4:02 - Burger announces that the film just finished shooting. Clip time! People running. Climbing. Tris in gray. Tris jumps on the train. Christina asks if they're trying to kill us. Train jumping scene! People leap off the train. Christina and Tris jump together. Land hard on the roof. Jai Courntey tells them it's time to jump. If they can't jump, they don't belong in dauntless. Tris volunteers to go first. Steps on the ledge. She drops off the side, landing on a net. Four is there! He asks if she got pushed. Tris says no. Four asks her name. Tells her to pick it and make it good because she won't get another one. Welcome to Dauntless. Cheering. Fighting. Training. Ferris wheel! Tris' tattoo. Tris shooting. Four throwing knives. Tris' ear bleeding. Ends with Tris throwing a knife at a target. It looks great! A lot of familiar moments from the book and a really intense vibe. Hints of chemistry between Tris and Four too, which is fun.
4:06 - Roth says the third book - Allegiant - will be written from two perspectives, Tris and Four. Woodley describes Tris as a very normal woman put in elevated situations. She says she thinks all of us are extremely brave and courageous but we aren't put into situations where we're forced to call upon our bravery. Tris is and she uses that bravery to help people around her. Hardwick tells Theo he's a "dreamy fellow." He says listening to James' accent got half the audience pregnant. But then he asks what makes Four complex. "He's quite old school," James says, going on to say that Four isn't afraid to demonstrate what he's afraid of. Talks about Four's fear of heights. He goes on to talk about everyone having fears and how we face those fears defines us as people.
4:10 - Supporting cast is coming out. The table is full of cast now! Hardwick talks about working with a young cast. Older cast members joke about being older, to which Hardwick responds that they're ancient compared to the younger cast. "We remember the 80s un-ironically," he said, which gets a laugh. Maggie Q says young talent is different talent. She thinks they're all going to be huge. Mekhi talks about youthful exuberance and banter. He says they're all hard working. Hardwick addresses Ensel, asking about working with the cast. Ensel says he didn't get to work with a lot of the cast, but he says it was amazing and the best experience in his life. He said it was a really great family to be a part of and he looks forward to being in all the sequels.
4:16 - Zoe talking about the dining hall scene. She says they got to crowd surf through the sea of Dauntless. Shailene agrees that was an amazing scene. They crowd-surfed for 45-minutes straight. Theo James says the movie has a very iconic look to it. He's looking forward to people seeing it. Roth says when she writes she doesn't have the most detailed mined, which she's working on. She says she was freaking out when she looked at the set pieces and all of the detail in all of it.
4:19 - Fan question time. Roth is asked about comparison from the book and movie. Roth spoke about the detail again and the water tank and how it was seeing Woodley swimming around in it. Cast asked about the training. Sounds like they did boxing and martial arts training for the film. Aww, a fan just came up to the microphone to ask a question about Ender's Game. The response was a mixture of laughter and maybe sympathy as he didn't realize the Ender's Game portion hasn't started yet. Poor guy. I hope we see him back at the microphone during the Ender's Game part of the panel! Fan asks what scenes from the book were they looking forward to filming. Woodley says she was excited to see Zoe's scene where she's hung over the chasm. Neil says the daunting stuff was with the train. He says he was thinking "how the hell are we gonna do that?" He says he wanted to do all of the visual stuff and stunts real. They built their own train and tacks. They're really running alongside of it and these guys did it for real.
4:26 - Fan asks Roth if Four and Tris' relationship has been accurately portrayed in the movie. Roth said she avoided the set when Four and Tris were doing anything "smoochy." She says she thought it was kind of voyeuristic. But it sounds like things are about on par with the book, from what she did see. Last question has the cast mentioning traits they share with their characters Mekhi says bravery. Ansel says he and Caleb are both really tall. They're the exact same height! Theo James says he's extremely protective of Shailene by nature. He won't even let her go to the bathroom with him not standing outside the door. Someone says Theo's a really good fighter. Woodley says that she'd like to think that she's brave. Zoe says Christina says whatever she wants, and she shares her "issue with word vomit." She never stops talking. Ben says Will's good at standing up for his friends. Ben says he and Edward look alike and he's always enjoyed learning. Christian says to talk about why he's like Al it'd be like one big therapy session. Amy says she'd like to think there aren't a lot of ways that she's like Molly, but she does love to fight. Miles says Peter's not very likable, but he defends Peter. But they both like classical music and they both brush their teeth in the shower. "He's a good guy, he's just misunderstood."
And we get to see the footage again. Ender's Game up next!.
Your Daily Blend of Entertainment News
Assistant Managing Editor
Kelly joined CinemaBlend as a freelance TV news writer in 2006 and went on to serve as the site's TV Editor before moving over to other roles on the site. At present, she's an Assistant Managing Editor who spends much of her time brainstorming and editing feature content on the site.
Your Daily Blend of Entertainment News
Thank you for signing up to CinemaBlend. You will receive a verification email shortly.
There was a problem. Please refresh the page and try again.