The Hunger Games: Mockingjay - Part 1 Already Setting Sales Records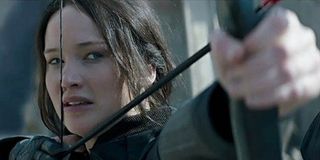 The Hunger Games: Mockingjay – Part 1 has already broken first day advance ticket sales for 2014. Even though the blockbuster is still three weeks away from release. Clearly, fans just can't wait to see Jennifer Lawrence' Katniss Everdeen firing her bow and arrow with aplomb.
Fandango has confirmed via press release that The Hunger Games: Mockingjay –Part 1 reached this landmark on October 29, and it proves that audiences are just as fervent for the franchise as they have ever been. In order to claim this accolade, Mockingjay easily surpassed the advance ticket sales for Divergent, which had previously set Fandango's record on March 3. The company also declared that Mockingjay accounted for almost 80% of Fandango's daily ticket sales during their first day of release. Impressive.
The third instalment to the franchise will see Jennifer Lawrence's Katniss Everdeen in District 13 after she literally smashes the games forever. Everdeen struggles to adjust to her new life as a reluctant hero who is now the symbol of hope for the nation. However, thanks to the sage advice of Julianne Moore's President Coin – I mean, who wouldn't listen to what Julianne Moore had to say – Everdeen soon starts to embrace her role and sets out to save Josh Hutcherson's Peeta Mellark... as well as inspire a nation.
Pretty stirring stuff. It's just that, well, the first two Hunger Games films, while having their moments, have been pretty forgettable. Even the consistently magnetic and charismatic Jennifer Lawrence seems to be diluted down and suffocated by her role in the blockbusters. But there is a suggestion that the tide is turning. You can see what I mean by checking out the most recent trailer for The Hunger Games: Mockingjay – Part 1 below.
The new trailer makes me think that the latest film will see the series find its stride. While The Hunger Games: Catching Fire was able to build upon the original 2012 sci-fi adventure, there were still a few nagging flaws that ultimately scuppered its progression. Once again, it was overlong, while Francis Lawrence's direction and Simon Beaufoy and Michael deBruyn's screenplay failed to really draw the best of the pretty spectacular cast that they have at their disposal. However The Hunger Games: Mockingjay – Part 1's action scenes and set-pieces already look promising, while there also seems to be more characterization and complexity for Lawrence to wrap her inimitable acting skills around.
Plus there is one really big reason why everyone should go and see The Hunger Games: Mockingjay –Part 1. It will be one of the final times that you get to see Philip Seymour Hoffman devour the big screen. Hoffman finished his scenes for Part 1 before his untimely death in February. And seeing him in the film will be a solemn reminder of how devastating a loss his has been to the world of cinema.
Your Daily Blend of Entertainment News
Thank you for signing up to CinemaBlend. You will receive a verification email shortly.
There was a problem. Please refresh the page and try again.