The Hunger Games: Mockingjay Trailer Will Give You Chills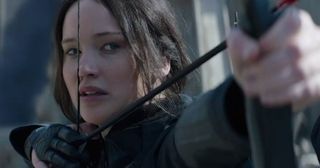 Post by The Hunger Games.
The new Hunger Games: Mockingjay Trailer - Part 1 is here and did anyone else just get chills? There's really nothing like the sight of people holding their fingers up while looking at Katniss with support, determination and readiness. The anticipation for the first part of the two-part adaptation Mockingjay is already on the rise as November approaches. We're a little more than two months away from the film's arrival and this video does well to remind us that Katniss may be down, but she's not out.
The trailer just went live and begins with Katniss telling President Snow that she never wanted any of this. She only wanted to save her sister and keep Peeta alive. Snow's response is to tell Katniss, "It's the things we love most that destroy us." He says it almost as if he's trying to give her a piece of genuine advice. But it's the darkest kind of advice. Katniss has always been driven by love, so what does that say about her future if Snow turns out to be right?
The trailer turns up the volume on Mockingjay's exciting score as we see more than a few glimpses of the drama and action ahead, including Katniss suiting up for battle, weapons everywhere and one shot that looks like it reveals people charging the peacekeepers. There are glimpses of Philip Seymour Hoffman's Plutarch Heavensbee, Julianne Moore's character, President Coin, Natalie Dormer's Cressida and at least one peek of Finnick Odair, played by Sam Claflin. We also see Katniss reuniting with Beetee (Jeffrey Wright).
And then there's Peeta (Josh Hutcherson) who's revealed to us (and Katniss) on a screen, telling everyone to lay down their weapons and stop fighting. As Haymitch (Woody Harrelson) tells Katniss that Peeta is the Capitol's weapon. Here's Peeta being interviewed by Caesar Flickerman (Stanley Tucci)...
Then we see Katniss demanding Coin and Plutarch rescue Peeta or start looking for another Mockingjay. From there, it's a sequence of thrilling moments, mixed with reminders that Katniss is at the center of all of this, and people are looking to her to lead the fight against the Capitol.
The new trailer follows the previously released teaser trailer, which shows Katniss being called to fight, and her answering with assurance that she will.
Based on the Hunger Games trilogy by Suzanne Collins, directed by Francis Lawrence, from a script by Danny Strong and Peter Craig, The Hunger Games: Mockingjay - Part 1 arrives in theaters November 21, 2014. The cast includes Jennifer Lawrence (Katniss Everdeen), Josh Hutcherson (Peeta Mellark), Liam Hemsworth (Gale Hawthorne), Woody Harrelson (Haymitch Abernathy), Elizabeth Banks (Effie Trinket), Julianne Moore (President Coin), Philip Seymour Hoffman (Plutarch Heavensbee), Jeffrey Wright (Beetee), Sam Claflin (Finnick Odair), Jena Malone (Johanna Mason), with Stanley Tucci (Caesar Flickerman), and Donald Sutherland (President Snow).
Tickets go on sale for the film October 29.
Assistant Managing Editor
Kelly joined CinemaBlend as a freelance TV news writer in 2006 and went on to serve as the site's TV Editor before moving over to other roles on the site. At present, she's an Assistant Managing Editor who spends much of her time brainstorming and editing feature content on the site.
Your Daily Blend of Entertainment News
Thank you for signing up to CinemaBlend. You will receive a verification email shortly.
There was a problem. Please refresh the page and try again.