Ice Age 3 Clip: Sid Becomes A Mother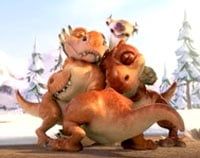 Mother's Day is Sunday and for those of you who have mothers (I was hatched from an egg, Jonathan Winters style) I supposed it's time to start getting all gooey about motherhood. To celebrate, Ice Age: Dawn of the Dinosaurs has released a new clip in which much beloved character Sid the Sloth becomes a mother. Normally his gender might be the biggest obstacle to achieving this, but really in this case it may be the least of his worries, since his children are all baby Tyrannosaurus's.. Tyrannosaurai? What's the plural on that?
Watch the brand new clip from Ice Age 3 below:
Your Daily Blend of Entertainment News
Thank you for signing up to CinemaBlend. You will receive a verification email shortly.
There was a problem. Please refresh the page and try again.