Ice Age Director Chris Wedge Moving On To The Monster Dogs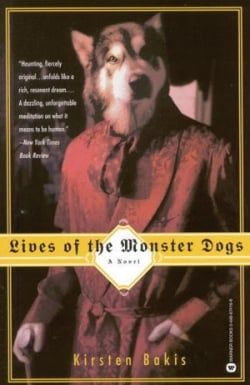 Remember the dogs at the end of Up who were trained as fighter pilot and communicated through voice boxes on their collars? OK, now imagine making those guys even weirder-- have them walk on their back legs, dress like 19th-century gentlemen, and move to modern-day New York where they befriend an NYU student. No, it's not the fever dream you had after watching Up on mushrooms, it's an actual novel, and soon to be a ilve-action movie from Chris Wedge, previously of the titanic Ice Age franchise.
Writer Adam Kline will be adapting Kirsten Bakis's novel Lives of the Monster Dogs, with Wedge directing and producing through his WedgeWorks production company. According to THR they'll develop the film on their own before bringing it to Fox, where Wedge is already making The Legend of the Leaf Men and where WedgeWorks has a production deal. And yes, the story is just as crazy as I made it sound: the dogs of the title were raised by crazed Prussian scientists in the remote reaches of Canada, and once they arrive in New York they start reverting to their natural animal states, which apparently has tragic consequences.
It sounds like a wild story, but not a bad challenge for Wedge, who's clearly been seeking out challenges ever since kicking off the Ice Age behemoth. Presumably the Leaf Men will be coming first, but just when you've managed to forget about the fighter pilot dogs of Up the monster dogs and their smoking jackets will be back to terrify you anew.
Staff Writer at CinemaBlend
Your Daily Blend of Entertainment News
Thank you for signing up to CinemaBlend. You will receive a verification email shortly.
There was a problem. Please refresh the page and try again.