Idris Elba And Noomi Rapace Reunite For Alive Alone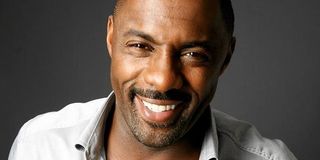 In 2012, a cast of international stars including South African Oscar-winner Charlize Theron, German thespian Michael Fassbender, American up-and-comer Logan Marshall-Green, Swedish stunner Noomi Rapace and English hunk Idris Elba collided for the sort-of prequel to Ridley Scott's Alien, Prometheus. While we wait for updates on a possible prequel sequel, Rapace and Elba are re-teaming for another thriller, though this one is swapping space for the gritty decay of New York City.
Reporting from the European Film Market, THR reveals Rapace and Elba are set to star in Alive Alone, a crime-drama penned by Khurram Longi. Also joining the cast is Avatar star Sam Worthington. The script made the coveted Black List in 2010 (the annual list of the most popular unproduced screenplays in Hollywood), as well as the Brit List. The film will be the first Rapace will also produce; plus it will mark Longi's directorial debut. His previous writing credits include three episodes of the UK comedy series My Life as a Popat. Check out its extended promo below:
The buzzed about script offers a major change-up from this quirky sitcom. In it, Elba will headline as Jamal, a taxi driver who was previously a detainee at Guantanamo Bay. For her part, Rapace will portray Sarah, a sex worker who meets Jamal while fleeing from the merciless crime boss, Murphy, who Worthington is set to play. Sounding a little like Martin Scorsese's Taxi Driver, this cabbie and prostitute find an unexpected solace in each other's company.
There's no word yet on when Alive Alone will lens, nor if it will be shooting on location in New York. Thunder Road Pictures and Protagonist Pictures will produce this thriller, and are currently pitching it to distributors at the EFM. If all goes well, we could get word on a start date soon.
In the meantime, Rapace will be returning to theaters Stateside this fall in The Drop, a crime-drama about a lost pit bull, an aspiring scam artist, and a murder. Tom Hardy and James Gandolfini co-star. Hardy will also share the screen with Rapace in her following film, the thriller Child 44, which centers on a string of child murders in Stalin-era Russia.
Following Thor: The Dark World and Mandela: Long Walk to Freedom, Elba's next offering is No Good Dead, about a stranger who talks his way into the home of a mother of two. Later come The Gunman, an espionage thriller with Javier Bardem and Sean Penn, and then Second Coming, a family drama from writer-director Debbie Tucker Green.
As for Worthington, he of course has the Avatar sequels to look forward to, but before they hit this English/Austrailian actor will pop up in the David Ayer-directed actioner Sabotage with Arnold Schwarzenegger, the Anthony Hopkins-fronted drama Kidnapping Freddy Heineken, and the espionage thriller For the Dogs, which co-stars Emma Roberts.
Staff writer at CinemaBlend.
Your Daily Blend of Entertainment News
Thank you for signing up to CinemaBlend. You will receive a verification email shortly.
There was a problem. Please refresh the page and try again.