Idris Elba And Taraji Henson Front Thriller No Good Deed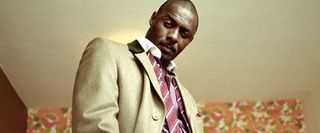 Movie Viking/TV detective Idris Elba sure knows to strike when the iron's hot. The Golden Globe-winning star of Luther has just completed press commitments for Ghost Rider: Spirit of Vengeance, and is gearing up for his newly announced role as a young Nelson Mandela in the biopic Long Walk to Freedom, which goes into production this summer. But this hasn't stopped the devastatingly dashing leading man from signing on to a gritty thriller set to shoot next month in Georgia. THR reveals Screen Gems has paired Elba with Oscar-winner Taraji Henson (The Curious Case of Benjamin Button) for the forebodingly-titled No Good Deed, directed by Sam Miller.
Penned by writer-director Aimee Lagos (96 Minutes), the feature focuses on a former district attorney who has walked away from her career in criminal prosecution to become a full-time (presumably single) mom. However, her home and children are threatened by a charming stranger smooth-talks his way into her house, claiming car trouble. In short order, he drops his affable façade and terrorizes her and her two children, making them his hostages. From this set-up it sounds like Henson will star while Elba will play the mysterious—but surely sexy—stranger.
Now when it comes to thrillers, Screen Gems has offered some seriously shoddy cinema, from the Straw Dogs remake to the Single White Female rip-off The Roommate to the Fatal Attraction-styled thriller Obsessed. Typically, they pair clichéd concepts with flashy stars—like Minka Kelly or Beyonce—but offer no spark of originality or intrigue. Here, though, we have every mother's worst nightmare paired with an incredibly talented and heralded cast. Is it possible that No Good Deed will rise above Screen Gems bad reputation? We'll have to wait and see.
Staff writer at CinemaBlend.
Your Daily Blend of Entertainment News
Thank you for signing up to CinemaBlend. You will receive a verification email shortly.
There was a problem. Please refresh the page and try again.