Images Of Jodie Foster And Gerard Butler In Nim's Island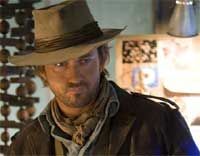 Hollywood seems to be handing out fantasy movies to any celebrity who asks for one. Bill Murray is sharing one with Tim Robbins called City of Ember, while Jodie Foster, Gerard Butler, and Abigail Breslin have teamed up for this one, a Fox Walden fantasy flick called Nim's Island.
Due out in April of next year, Nim's Island is about a magical place ruled by a little girl's imagination. It is an existence that mirrors that of her favorite literary character, Alex Rover- the world's greatest adventurer. But Alexandra, the author of the Rover books, leads a reclusive life in the big city. When Nim's father goes missing from their island, a twist of fate brings her together with Alexandra. Now, they must draw courage from their fictional hero, Alex Rover, and find strength in one another to conquer Nim's Island.
The first two pics from the film have been sent to us by Fox. They feature Gerard Butler in a pretty cool hat, and Jodie Foster pretending she's Tarzan. Weird. Check them out below:
Your Daily Blend of Entertainment News
Thank you for signing up to CinemaBlend. You will receive a verification email shortly.
There was a problem. Please refresh the page and try again.