Imagine Entertainment Hires Screenwriter For Salvador Dali Biopic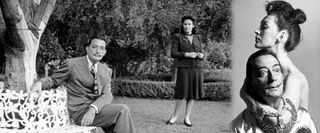 With news that they've hired an up-and-coming screenwriter, Imagine Entertainment has dove into development on a biopic about the wondrous life and times of Salvador Dalí. Deadline reveals scribe Paige Cameron has been selected to script the currently untitled picture after impressing Imagine's execs with her passion, knowledge of Dalí, and storytelling savvy. Brian Grazer will serve as executive producer on the project alongside Imagine's Anna Culp, who worked as Grazer's assistant on a number of noteworthy features, including his Oscar-winning biopic A Beautiful Mind.
Notably that drama came under fire for its divergence from the facts of its central figure, yet this Dalí-centered drama seems determined to stick to the truth of this mesmerizing artist's life and long-time romance with his wife Gala, as it is the only production endorsed by the Gala-Salvador Dalí Foundation. This foundation was founded by Dalí in 1983 to manage his estate, and is granting Cameron exclusive access to its extensive archives of letters and other materials for her research. The screenwriter, who has one short (Hills Like White Elephants) and two screenplays (the bull-riding drama Leaving Ten Sleep, the Louis Armstrong biopic Satchmo) to her credit, has plenty to pull from. The surrealist painter not only had a fascinating career, but also a very public life with his spirited muse and partner Gala. Like many eye-catching celebrity couples, the Dalís were known not only for their work but also for their tempestuous marriage. The two were notorious for their scandalous exploits, including a high society masquerade ball where they appeared costumed as the Lindbergh baby and his kidnapper.
Still, it seems the Foundation has faith that Cameron will capture Dalí with aplomb, as their managing director Joan Manuel Sevillano has stated, "The Gala-Salvador Dalí Foundation's interest in a biographical film has always been limited to one that would involve an A-list team. We are delighted to have this project in the hands of Imagine, a production company whose taste and exacting standards of execution are in keeping with Dalí's legacy, as well as Paige Cameron, a screenwriter we admire and trust."
Ultimately, this sounds like a project with a lot of promise. Personally, I'll be most curious to see if and how the filmmakers may look to integrate Dalí's surrealistic aesthetic with his life story. It's hard to imagine a fitting Dalí biopic could be made without a jaw-dropping sense of style and thought-provoking visual flare. Of course, it'll also be fascinating to see who'll be cast as Dalí and Gala. Share your picks in comments.
Your Daily Blend of Entertainment News
Staff writer at CinemaBlend.