Independence Day 2 Can't Afford Will Smith, But More Familiar Faces Will Return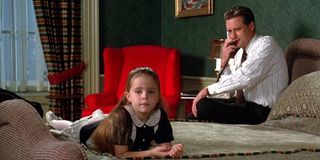 What is an Independence Day movie without a wisecracking Will Smith to lead it? We're about to find out. Against what seemed like all reason, an Independence Day sequel really is happening, with a 2015 release date and everything. Pretty much every discussion about the sequel in the past has emphasized that the lead character will be Will Smith's stepson-- remember, the cute kid in the hat?-- and given that Smith pretty much only makes movies that he can produce himself these days, it never seemed all that likely that he would return.
But just in case the newly announced release date had gotten your hopes up…. Emmerich is back to pour cold water all of them again. Speaking to The Daily News, he confirmed that, essentially, Smith is now too expensive and important to reprise his role:
But don't start getting concerned that he's totally averse to big names appearing. In addition to the promised return of Bill Pullman as (now) ex-President Thomas Whitmore, Emmerich says about half of the characters in the current script are familiar from the first film, while half of them are new. Of course, one of those familiar characters could easily be Smith's stepson-- hello, Jaden Smith!-- but now we've really got to start running down the laundry list of characters who could return in the sequel. Randy Quaid is obviously out. Same with Mary McDonnell. But Jeff Goldblum and Harvey Fierstein (you never see a body!) could be brought back in for service, along with various people who weren't all that famous at the time-- Chuck veteran Adam Baldwin had a role, as did Arrested Development's Mae Whitman as the President's wee little daughter (yes, really! That's her at the top of this post)
With Emmerich's new film White House Down proving to be better received and a much bigger crowdpleaser than much of anything he's made since his 90s heyday, the promise of an Independence Day sequel is suddenly a lot brighter than it was circa 10,000 B.C.. Even when he's making movies that are legitimately terrible, Emmerich has the ability to convince major actors to work with him over and over again, and it's been long enough since the original Independence Day that most of its cast ought to be able to recognize how iconic that film is-- and how much even a quick appearance in the sequel ought to give them a boost. Aside from popping up in Wes Anderson movies, Jeff Goldlbum isn't keeping that busy, is he?
To scheme up ideas of which other actors you want to see turn, here's the film's original, very lengthy trailer below. If we can get enough of these classic character actors to make a comeback, you probably won't even miss Will Smith.
Staff Writer at CinemaBlend
Your Daily Blend of Entertainment News
Thank you for signing up to CinemaBlend. You will receive a verification email shortly.
There was a problem. Please refresh the page and try again.