Inside Llewyn Davis Oscar Snub Was Painfully Predictable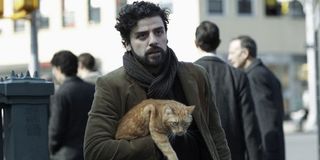 Sometimes it sucks being right. Today, when the Academy Award announced nine Best Picture nominees out of a possible ten, and Inside Llewyn Davis wasn't among them, it sucked to be right.
Last September, I sat in a packed to capacity theater in New York City, absolutely in awe of Joel and Ethan Coen's latest. The whole theater rolled with laughter and tangible tension as the story of a down-on-his-luck and stubborn folk singer unfurled before us. In my review, I positively raved about Inside Llewyn Davis, but also noted my concerns about its Oscar prospects, adding, "Hopefully, its lack of histrionics won't hurt it come award season, as this mellow tale doesn't need showy drama to deliver."
I stand by that. With a pitch-perfect cast and the Coens at the top of their game, weaving the whole narrative with an absolutely breathtaking soundtrack produced by T-Bone Burnett, Inside Llewyn Davis doesn't need to be flashy to be fascinating and powerful. However, its deceptively simple and subtle storytelling was snubbed by the Academy Awards today. All it earned was a Sound Mixing and a Cinematography nomination. While well earned, this thoughtful drama deserved more. And yet its exclusion from the big categories like Best Director, Best Actor, Best Picture was painfully predictable because the Oscar's like their selects to be all kinds of showy.
Not to detract from those films that did get nominated. Some movies demand to be full of big drama, like Best Picture contenders Wolf of Wall Street, an ode to excess with record-breaking cursing, censor-rallying debauchery and controversial depictions of an admitted criminal, or August: Osage County, which boasts its hysterical, feuding family on its poster. But instead of a heartstring-pulling true story or a mind-shattering space odyssey, Inside Llewyn Davis gave us a stoic and grouchy anti-hero who lacks one very important thing come Oscar time. Oscar Isaac, for all his screen presence and careful layering of the complicated character of Davis, lacked a showy clip for the montage section of the awards show.
You know what I mean. Gravity could use Sandra Bullock's big emotional monologue. Captain Phillips will replay that killer line, "I'm the Captain now," or revisit that gut-wrenching moment Hanks offers when his hero is at long last safe. That devastating whipping scenes of 12 Years A Slave will make an appearance, as will the physical transformations of an emaciated Matthew McConaughey in Dallas Buyers Club or pot-bellied Christian Bale bellowing about the craft of the con in American Hustle. Watching these movies in theaters, it's easy to spot these montage-worthy moments, and picture them with the Oscar logo in the corner as Glenn Close's voice regally reads out their title over top it all.
But part of Davis's problem in Inside Llewyn Davis is that he doesn't have a hook as an artist that makes him an easy sell. And it seems this essential story element has made the movie mimic its anti-hero's journey. Apparently, while performing songs live worked wonders for Les Miserables, it wasn't enough to get the Academy to notice the wonder in Inside Llewyn Davis.
Staff writer at CinemaBlend.
Your Daily Blend of Entertainment News
Thank you for signing up to CinemaBlend. You will receive a verification email shortly.
There was a problem. Please refresh the page and try again.