International Beowulf Trailer Shows Nudity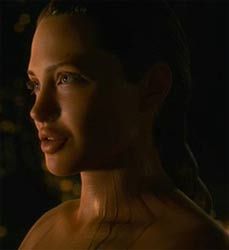 Robert Zemeckis did his best to create some buzz around Beowulf last week, releasing stills and then a trailer for the motion-capture animated adaptation of the epic poem. Still, some of the biggest buzz surrounding the picture was the notion that the picture would be rated PG-13, although there was material for a harder, R rated cut if need be – containing some profanity and nudity.
Yes, that's right – more people seemed interested in seeing an animated Jolie's ta-tas than the adaptation of one of the oldest known literary works. What a cultural statement that makes. Then again, it is Angelina Jolie… and theoretically the nudity bears some resemblance to the motion capture performance, right?
Well, the international version of the Beowulf trailer has arrived online and with it there is some nudity. Don't watch this expecting to see everything splayed out for your eyes though. This is the exact same trailer we saw last week, but with two shots of Jolie's character from farther away so we get to see her animated ass and breasts. They are quick cut flashes though, nothing to get too excited over.
Take a look:
Your Daily Blend of Entertainment News
Thank you for signing up to CinemaBlend. You will receive a verification email shortly.
There was a problem. Please refresh the page and try again.