International Due Date Trailer: Robert Downey Jr. Takes His Revenge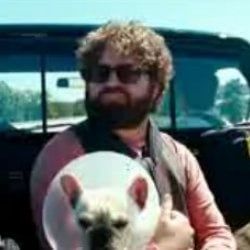 It was a pretty rough summer for comedy, with everything half-decent underperforming-- Scott Pilgrim, MacGruber-- and everything else either underwhelming or just plain sucking (Dinner for Schmucks, Killers, The Switch, etc.) Thank God, then, for the imminent return of Todd Phillips, who is reuniting with Hangover star Zach Galifianakis and bringing in Robert Downey Jr. for Due Date, coming November 5 to remind you that movies can still be funny.
We've already gotten a look at the domestic teaser trailer and now there's an international trailer online to take a gander at. It's still the same stuff-- Downey Jr. and Galifianakis squabbling in a car, being silly-- but that's fine by me. Stay tuned for the appearance of Jamie Foxx at the end, though-- his character is apparently an old boyfriend of Downey Jr.'s wife (played by Michelle Monaghan) who makes him feel insecure, but in this scene the two team up to take revenge on the annoying Galifianakis. Watch it all unfold below.
Staff Writer at CinemaBlend
Your Daily Blend of Entertainment News
Thank you for signing up to CinemaBlend. You will receive a verification email shortly.
There was a problem. Please refresh the page and try again.