Interview: African Cats Directors Alistair Fothergill And Keith Scholey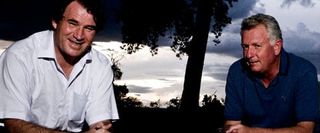 Earth Day is right around the corner and you know what that means; another Disneynature film is on the way. Ever since 2009, the Walt Disney Company independent film label has delivered an Earth-related documentary, the first being Earth and then Oceans. This time around, Earth director Alistair Fothergill is back, but, with the help of co-director and producer Keith Scholey, he's narrowing his focus to one breed of animal in particular, African cats.
The film focuses on Mara, a six-month-old lion being raised in the Massai Mara National Reserve in southwestern Kenya. There's also Sita, a cheetah with five cubs who struggles to protect her babies from local predators. We've also got Fang, the leader of a pride, who runs into trouble when another lion king challenges his authority.
African Cats isn't like your average documentary, merely dictating information about a subject or event, rather more of a narrative experience with the power to make you feel as though you're in the heart of the action. While Scholey and Fothergill did have the necessary technology to get the job done, much of the process relied on sheer luck, hoping they'd capture the necessary material to put together a complete story.
In honor of Earth Day and African Cats' April 22nd release, Scholey and Fothergill took the time to recall the entire process from working out of their camp during production to cutting down the immense about of footage in the editing room. Hear all about that and more in the video interview below:
Your Daily Blend of Entertainment News
Staff Writer for CinemaBlend.