Interview: Chris Pratt On Moneyball And How Parks & Recreation Has Changed His Life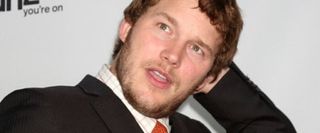 Chris Pratt has spent the last decade working all over the place in film and television, known as Bright Abbott on Everwood and Summer's activist friend Che on The O.C., and popping in films that include Bride Wars and Wanted. But if you recognize Chris Pratt, odds are very, very good it's as the dim-witted, lovable and constantly hilarious Andy Dwyer on Parks & Recreation, a role that started off as a guest spot and has transformed both into one of TV's most interesting goofballs and a complete game-changer for Pratt's career.
Pratt knows you probably know him as Andy, which might be part of why he fought so hard to play Scott Hatteberg in Moneyball, the new adaptation of Michael Lewis's bestselling book about how the Oakland A's used complicated statistics to become a championship-level team on virtually no money. Hatteberg was a former catcher recruited when he was let go from the Boston Red Sox after rupturing a nerve in his elbow; in the film we watch him adjust to life as a first baseman, while the team's general manager Billy Beane (Brad Pitt) and assistant GM Peter Brand (Jonah Hill) attempt to justify their efforts to transform the team.
Moneyball premiered here at the Toronto Film Festival, and over the weekend I caught up with Pratt to talk about the work he did to get the role in Moneyball, his trepidation at playing a real-life figure, and how Parks & Recreation has changed his life (if you want to see him talk more about the show, go here. Moneyball opens September 23.
(Image via Helga Esteb (opens in new tab) / Shutterstock.com (opens in new tab))
Staff Writer at CinemaBlend
Your Daily Blend of Entertainment News
Thank you for signing up to CinemaBlend. You will receive a verification email shortly.
There was a problem. Please refresh the page and try again.